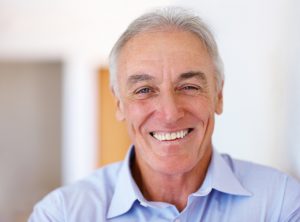 The impact that a missing tooth has on your daily life and your oral health is a big one. It can feel daunting and embarrassing speaking and smiling in front of other people when you're missing a tooth. It may also become difficult to properly chew and eat the foods you normally enjoy. The good news is dental implants may be the right solution for you, and your highly skilled team at Costello Dental Excellence can help. Your Arlington Heights implant dentist explains the advantages of dental implants for replacing one or more missing teeth.
What is a Dental Implant?
A dental implant can take a few months to complete from start to finish, but the excellent results you'll enjoy are by far worth the wait. A titanium post is surgically placed into your jawbone and allowed to heal in order to create the stable foundation for your new tooth, which is a crown made from high quality porcelain.
After the appropriate healing time has passed, Dr. John Costello or Dr. Ernest Costello will place your custom made crown. Implants are very durable, so with excellent home care and regular check ups at Costello Dental Excellence, your implant can potentially last a lifetime.
Missing Teeth and Oral Health
Did you know that one or more missing teeth also greatly affect your oral health? Without a root, your jawbone will begin to resorb, or deteriorate, which puts your remaining teeth at risk for loss. Without a new replacement tooth, your healthy existing teeth will begin to shift into the open space putting them at risk for periodontal disease and fractures. Shifting teeth will cause your bite to become misaligned, which can contribute to a jaw joint disorder known as TMJ.
The Benefits of Dental Implants
Implants are the only replacement option that restores both your root and tooth, which protects your oral health. Your new titanium root keeps your jawbone healthy and stimulated, while your crown protects your natural teeth from shifting.
A dental implant closely mimics your natural tooth, so you'll enjoy the same function that you always had when eating and chewing. You'll also be able to brush and floss your tooth, as you were used to. An implant crown is custom designed by your provider to naturally complete your smile, so no one will ever know you were missing a tooth.
Don't let a lost tooth hold you back from living the life you deserve any longer! Contact our office today to schedule an implant consultation.