Dentures – Arlington Heights, IL
A Wonderful Way to Restore Your Smile
At Costello & DeHart Dental Excellence, we've been restoring smiles for several decades and love seeing how well-made dentures change our patients' lives after tooth loss. From restoring your self-confidence to allowing you to eat, smile, and laugh with ease, the value of a new smile can't be overstated. And with multiple options that can be customized for everyone's needs, you can rest assured that we'll find the perfect denture solution for you. If you've experienced tooth loss and want to know how dentures in Arlington Heights can work for you, contact us to schedule a consultation with one of our experienced dentists. We look forward to helping you love your smile again!
Who Is a Good Candidate for Dentures
Fortunately, dentures are an incredibly versatile restorative dental solution. Whether you are missing several consecutive teeth, you have gaps throughout your smile, or you don't have any of your natural teeth left, you may be a candidate for this tooth-replacement solution! The first step in finding out if you're a candidate is scheduling a consultation with our team at Costello & DeHart Dental Excellence. Once we learn more about your dental history, the severity of your tooth loss, and other important factors, we will be able to determine if dentures are the ideal solution for you.
Types of Dentures
"Dentures" is often used as an umbrella term, but there are actually several different types! At Costello & DeHart Dental Excellence, we offer partial, full, and implant dentures. To learn more about each, simply read on.
Full Dentures
A full denture is a removable appliance that includes a full set of prosthetic teeth built into a gum-colored acrylic base. They're held in place through a combination of natural suction and adhesive and should be removed and cleaned each day with special denture care products. Traditional full dentures can last 5-10 years and need to be re-lined and adjusted periodically to continue fitting well.
Partial Dentures
A partial denture can be made to replace anywhere from one to many missing teeth. It's made of an acrylic or metal framework that includes clasps to fit around your existing teeth for support and needs to be removed and cleaned each time you brush your teeth. Partial dentures can be a great option for patients who need an inexpensive or temporary alternative to a bridge or implant.
Implant Dentures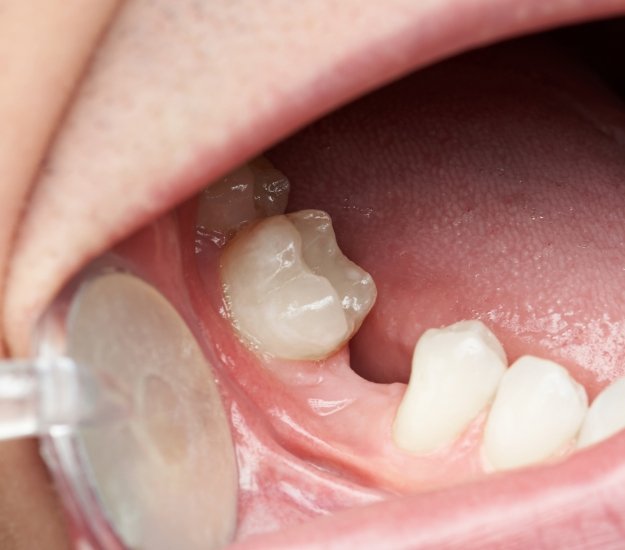 With modern techniques and materials, dentures today fit and feel better than they did in the past. But for superior fit, function, and chewing strength, implant-retained dentures make a dramatic difference. The type of implants used to secure dentures are smaller and shorter than the traditional kind, and usually just 2-6 are needed per arch. Along with better function, implants also preserve your jawbone and facial structure. You won't have to worry about "slips" the way you might with a traditional full denture and the need for adhesive will be greatly reduced or eliminated.
The Benefits of Dentures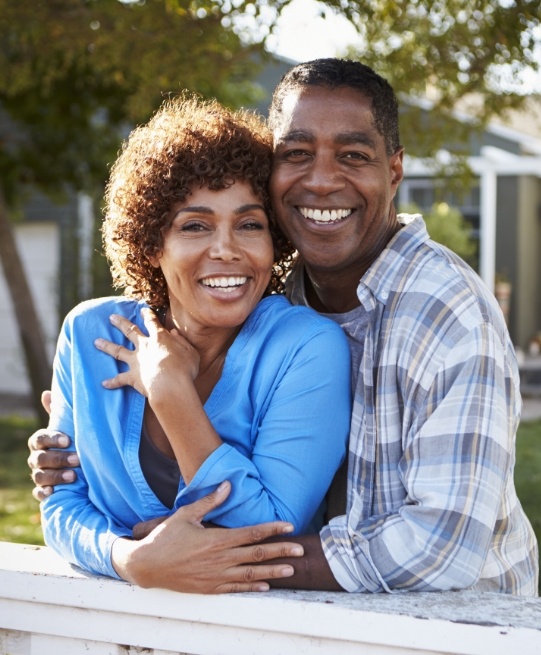 Dentures have been one of the most popular tooth-replacement solutions for decades now, and they continue to advance with technology and the field of dentistry. Today, they are:
Lifelike
Long-lasting
Cost-effective
Easy to care for
Completely customizable
Able to restore your strong bite
Maintaining Your Dentures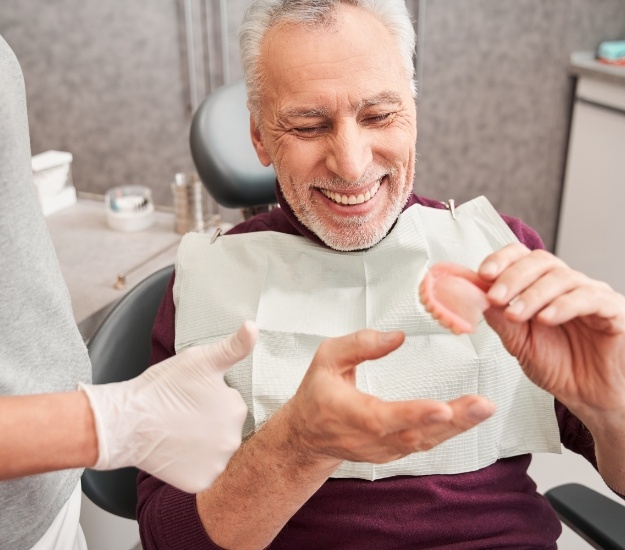 By taking great care of your dentures each day, you'll not only help them last longer and function better but will also find them more comfortable. First, always handle them carefully because they can be very slippery and easy to drop (and break). In fact, it's a good idea to clean them over a soft hand towel or basin of water to prevent that from happening.
Soak your dentures each night in denture solution and gently but thoroughly brush them each day as well. It's also important to keep your dentures moist at all times to keep them from drying out and cracking. Make sure to keep everything clean and healthy by gently brushing your tongue, gums, and the roof of your mouth twice a day and flossing around any remaining teeth.
Finally, continue coming in for regular checkups so we can make adjustments as needed and address any small chips, cracks, or bends before they turn into bigger problems.
Understanding the Cost of Dentures
If you suffer from extensive tooth loss, you're probably excited to get dentures in Arlington Heights. But first – are you wondering how much the entire treatment will cost? Since every case is unique, the total price can vary significantly from patient to patient. During your consultation, our team at Costello & DeHart Dental Excellence will conduct an oral examination and explain which factors will affect the cost of your dentures. By the end of your appointment, you should have a better understanding of not only what you can expect to pay, but what your future smile will look and feel like. To learn more, continue reading or call our office!
Factors that Affect the Cost of Dentures
There are several factors that affect the total cost of dentures in Arlington Heights, such as:
Any preparatory dental work that's needed (i.e., tooth extractions, gum disease therapy, etc.)
Type of acrylic used for the base (the part that's dyed to match the color of the gum tissue)
Number of teeth you're missing
Materials your artificial teeth will be made of (usually from acrylic or porcelain)
Patients who want to keep their out-of-pocket expenses as low as possible may be tempted to opt for cheaper dentures. However, that is not recommended because more affordable prosthetics are typically not worth having. They're often made from cheaper materials, meaning they'll break easily and require replacement much sooner than anticipated. When it comes to dental work, quality should always be of utmost importance, regardless of cost.
Are Implant Dentures More Expensive?
Yes, but there's a very good reason for that. Unlike traditional ones, implant dentures require oral surgery and the placement of multiple dental implants. Although the procedure is more invasive, you can enjoy the benefit of wearing dentures that won't shift out of place while in use. What's more, they help stimulate the jawbone, providing increased biting strength and longevity. Even though the total cost of implant dentures is higher than traditional ones, it's an investment that pays off in the long run because your new smile can last for decades – maybe even a lifetime!
Does Dental Insurance Cover Dentures?
The good news is that most dental insurance plans will cover some of the costs that come with getting dentures in Arlington Heights because it's considered a major procedure. Of course, every policy is unique, meaning the exact amount of coverage may vary from person to person. You should confirm the details of your plan with an insurance provider to ensure you're getting the most out of your benefits. Our team at Costello & DeHart Dental Excellence is more than happy to help you with this step if needed.
Other Options for Making Dentures Affordable
We understand not everyone has dental insurance, which is we offer an additional option outside of that to make your treatment more affordable. Our in-house premier dental plan can help you save big on everything from standard checkups to restorative treatments like dentures! For just one low annual fee, you can get the preventive care you need and get discounts on various services.
Are you ready to rebuild your smile and restore your confidence? Contact our office and schedule a consultation today. Once we determine dentures are right for you, we'll create a treatment plan that suits your budget perfectly!
Dentures FAQs
Ready to start enjoying life with dentures in Arlington Heights? As one of the most tried-and-true restorative tooth replacement solutions on the market, these prosthetics have changed the way people interact, live, and embrace life for decades and even centuries. While the materials and creative techniques have changed over the years, their ability to offer improved functionality and a pleasing aesthetic remains the same. At Costello & DeHart Dental Excellence, we want all our patients suffering from tooth loss to be 100% confident in their decision to choose dentures, which is why we've answered some of the most common questions asked by previous patients. We encourage you to contact us and schedule an appointment if you have any additional questions.
Can I Sleep With My Dentures?
Although you technically can sleep with your dentures in, it is strongly advised that you do not. The reason is that your bone and gums need time to breathe and retrieve vital nutrients. Not to mention, bacteria can form underneath the denture and increase your risk of pneumonia. Allowing your dentures to soak overnight will not only benefit your oral cavity but also thoroughly clean your prosthetics and remove any bacteria that might try to break down your new smile.
Is It Hard to Talk with Dentures?
It is not uncommon to experience a slight change in your speech after receiving your dentures. Whether you are new to wearing this type of prosthetic or you are receiving a replacement set, your tongue, cheeks, gums, and other oral structures will need time to adjust. This varies from person to person, but you can speed up the adjustment phase by doing the following:
Stand in front of a mirror and watch yourself as you pronounce certain syllables and words
Speak slowly to ensure greater clarity until you feel more comfortable with your words
Read aloud to yourself or to your family members to become more confident in your abilities
Can I Use Regular Toothpaste to Clean My Dentures?
While regular fluoride toothpaste is fine for healthy tooth enamel, you do not want to use it on your dentures. Why? Because the high-quality materials used to create your prosthetics can be easily damaged by abrasive toothpaste brands. If you brush with your normal toothpaste, you will discover your dentures look dull and scratched. However, if you find a non-abrasive toothpaste, your dentures will maintain a natural appearance that helps them to look and feel brand new.
Will Dentures Change the Shape of My Face?
Tooth loss is a common culprit behind what is known as "facial collapse." As the jawbone deteriorates, your facial features will begin to sag, causing you to appear much older than you really are. Fortunately, your denture dentist in Arlington Heights can provide you with good news! By choosing dentures, you can boost your physical appearance because of the prosthetic's ability to fill out your cheeks and keep your facial structure lifted. With the help of dentures, you can recapture a more youthful look.