Dentures – Arlington Heights, IL
A Wonderful Way to Restore Your Smile
At Costello & DeHart Dental Excellence, we've been restoring smiles for several decades and love seeing how well-made dentures change our patients' lives after tooth loss. From restoring your self-confidence to allowing you to eat, smile, and laugh with ease, the value of a new smile can't be overstated. And with multiple options that can be customized for everyone's needs, you can rest assured that we'll find the perfect denture solution for you. If you've experienced tooth loss and want to know how dentures in Arlington Heights can work for you, contact us to schedule a consultation with one of our experienced dentists. We look forward to helping you love your smile again!
Full Dentures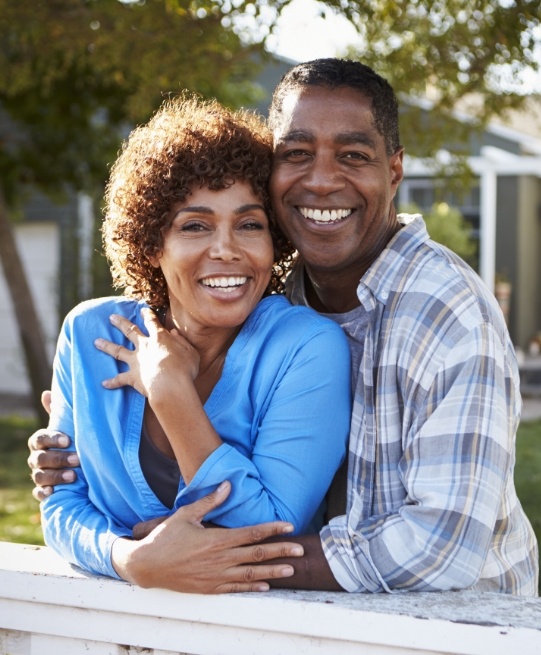 A full denture is a removable appliance that includes a full set of prosthetic teeth built into a gum-colored acrylic base. They're held in place through a combination of natural suction and adhesive and should be removed and cleaned each day with special denture care products. Traditional full dentures can last 5-10 years and need to be re-lined and adjusted periodically to continue fitting well.
Partial Dentures
A partial denture can be made to replace anywhere from one to many missing teeth. It's made of an acrylic or metal framework that includes clasps to fit around your existing teeth for support and needs to be removed and cleaned each time you brush your teeth. Partial dentures can be a great option for patients who need an inexpensive or temporary alternative to a bridge or implant.
Maintaining Your Dentures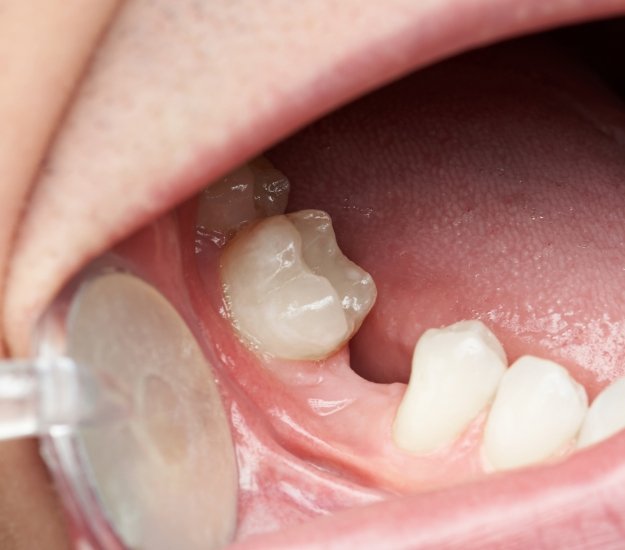 By taking great care of your dentures each day, you'll not only help them last longer and function better but will also find them more comfortable. First, always handle them carefully because they can be very slippery and easy to drop (and break). In fact, it's a good idea to clean them over a soft hand towel or basin of water to prevent that from happening.
Soak your dentures each night in denture solution and gently but thoroughly brush them each day as well. It's also important to keep your dentures moist at all times to keep them from drying out and cracking. Make sure to keep everything clean and healthy by gently brushing your tongue, gums, and the roof of your mouth twice a day and flossing around any remaining teeth.
Finally, continue coming in for regular checkups so we can make adjustments as needed and address any small chips, cracks, or bends before they turn into bigger problems.
Dental Implant-Retained Dentures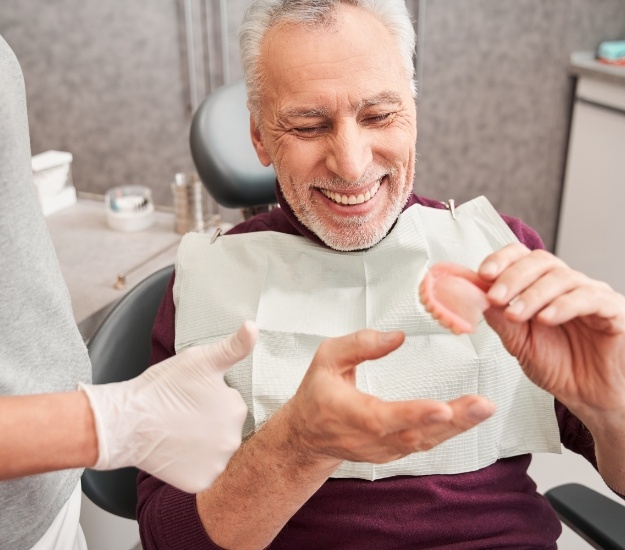 With modern techniques and materials, dentures today fit and feel better than they did in the past. But for superior fit, function, and chewing strength, implant-retained dentures make a dramatic difference.
If you'd like to find out more about how traditional or implant-retained dentures can improve your oral health, get in touch anytime. As a dentist in Arlington Heights, we'll evaluate your needs and goals before creating a personalized treatment plan just for you.