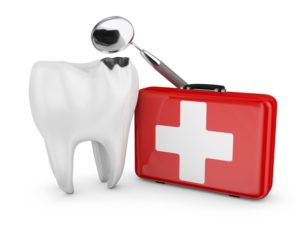 You are out enjoying a delicious meal with some friends when all of a sudden, you experience a major issue with one of your teeth. Nobody wants a dental emergency, but unfortunately, it can happen at the most unexpected times. Knowing how to handle the situation and where to go for help can make a difficult situation much more manageable! Here's what to know about an emergency with your oral health.
What Is Considered a Dental Emergency?
From a knocked-out tooth to a painful toothache, there are a multitude of dental issues that can occur at a moment's notice. While each of these health concerns will most likely need professional assistance, dental emergencies are different because they will require a same-day appointment to get to the root of the issue and provide immediate pain relief. To help you decide when you need to contact your emergency dentist, here are some common dental emergencies:
A severe toothache.
Painful facial swelling.
Abnormal bleeding.
Loose or missing permanent teeth.
Damaged restorations (i.e., fillings, crowns, etc.).
When Should You Go to the ER?
It's worth noting that there are a few exceptions in which going to a hospital for a dental emergency is the best route to take to care for your smile. For example, if you have an untreated infection that's lasted several weeks, you should go to an emergency room as it can become a life-threatening situation. Some other reasons that warrant a visit to the hospital include:
Severe swelling
Lacerations inside or around the mouth
A broken jaw or a jaw fracture
Intensive bleeding
How to Temporarily Alleviate Your Pain
While you wait to seek treatment for your issue, you can do some things to alleviate your discomfort. Here are some steps you can take in the meantime to remedy the pain:
Clean your teeth: Brushing and flossing can help remove any debris that could be contributing to your pain. You can rinse with lukewarm salt water as well to wash away harmful bacteria that has accumulated in your mouth.
Take over-the-counter pain medication: It can help provide immediate comfort and minimize inflammation.
Use a cold compress: By holding it on your cheek over the area where you feel pain, you can reduce swelling and minimize your pain.
An emergency dentist is the key to getting your oral health back on track when you have experienced an unexpected harmful dental event. By being aware of what constitutes a dental emergency and where to go for certain occurrences, you will be ready to seek treatment as soon as possible!
About the Practice
Costello & DeHart Dental Excellence is eager to help you and your family with any dental emergency 24 hours a day! Their two experienced dentists treat their patients like family while providing expert care. By using the most advanced dental technology and personalized plans, they can get your smile back on track. If you need help right away with a dental issue, contact them through their website or call (847) 259-1111.