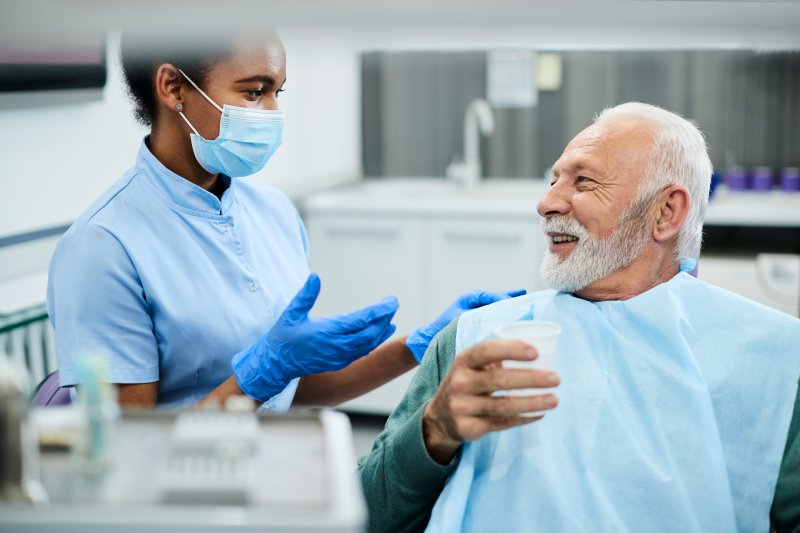 Cosmetic dentistry can improve your smile by restoring a full, uniform look. It can also improve the appearance of your teeth and gums and give you new found confidence and self-esteem. If you are considering cosmetic dentistry but are on the older side, you may be wondering if you're still eligible for these treatments. Fortunately, these treatments can be beneficial to patients of any age. Continue reading to learn three ways that older patients can benefit from cosmetic dental procedures.
#1: Remove Discoloration
As we age, our teeth naturally become yellow. There are a variety of factors that contribute to this, including eating habits, lifestyle choices, and genetics. Professional in-office teeth whitening can help brighten your smile by several shades in just one visit. Take-home whitening kits are also effective and take a few weeks of daily use to see results.
Porcelain veneers are a type of cosmetic dental procedure that can be used to improve the appearance of your smile. Veneers are thin, custom-made shells that are bonded to the front of your teeth. They can be used to cover a variety of cosmetic imperfections, such as discolored pearly whites. Additionally, dental crowns cover the whole tooth and are color-matched to your surrounding teeth.
#2: Fix Worn-Down Teeth
Tooth enamel is the hard, outer layer of the teeth. It protects the inner parts of your pearly whites from damage. Enamel is the strongest substance in the body, but it can still get damaged. Things like an improper diet, tooth grinding, and poor oral hygiene can make your enamel wear down faster. If it's damaged, it can lead to cavities, tooth decay, and even tooth loss.
Porcelain veneers can cover up visible damage to your teeth. Additionally, dental crowns are a good option for teeth that have been severely damaged since they can help to protect the tooth and restore its shape, look, and function.
#3: Undergo a Complete Smile Makeover
As people get older, they may experience a variety of oral health and cosmetic issues, such as discoloration, shifting teeth, and more. In these cases, getting a smile makeover may offer a great solution.
A smile makeover can include cosmetic treatments, such as tooth-colored fillings, porcelain veneers, all-ceramic dental restorations, teeth whitening, and Invisalign. These treatments can be used to fix gaps, chips, discoloration, cracks, minor alignment problems, and misshapen teeth.
About the Practice
Costello & Dehart Dental Excellence is a dental practice in Arlington Heights that offers a variety of services to keep your smile healthy and beautiful. They are committed to providing patients with the best possible care and they offer a wide range of cosmetic treatments to patients young and old. Whether you're looking to whiten your teeth, straighten your smile, or repair damage, they can help improve your smile. If you're interested in learning more about the services offered at Costello & Dehart Dental Excellence or scheduling an appointment with their skilled team, call (847) 354-4058 or visit their website.