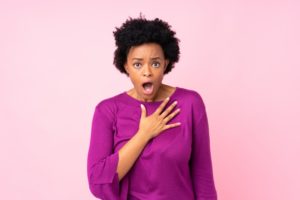 While no one wants a dental emergency, unfortunately, they sometimes occur. Common unexpected occurrences involving your mouth would include a knocked-out tooth or a loose crown. These are typical experiences that wouldn't surprise any dentist. But there are a few rare ones that would definitely shock even the most experienced dental team! Read on to learn more about four of the strangest dental emergencies to occur.
#1. Sprouting Tooth
Toothaches can be annoying but when once they become more severe, a trip to the dentist is essential. Oftentimes, the discomfort is due to untreated decay, which caused the tooth to be infected. That was exactly what one man thought was the reason for his aching mouth. After an examination, the dentist agreed and decided root canal therapy was the solution. However, instead of finding plaque and tartar during the procedure, there was a sprouting plant inside his tooth. Unbelievably, a tomato seed had gotten stuck in it and began to grow!
#2. Denture Odor
If you wear dentures, you are aware of how important it is to remove them every night to clean and soak them. This ensures the prosthetic remains clean and bacteria-free, as well as gives the gums a rest from the pressure throughout the day. Unfortunately, an elderly patient didn't properly care for her dentures and left them in her mouth for months. She visited her dentist, and they knew what the problem was–a horrible smell was coming from her mouth due to a severe gum infection caused by neglected dentures.
#3. "Not So Super" Dental Crown
While dental restorations are meant to last quite a long time, they won't last forever. When a crown falls out, the best thing to do is immediately contact your dentist to get it put back in or receive a replacement. Well, one woman decided to take matters into her own hands. She decided to reattach her crown by using super glue! As you may have guessed, her solution was not very successful. Not only did the sticky stuff keep her restoration in place, but it got all over her mouth…and even glued her teeth together!
#4. Calculus Bridge is Falling Down
You have probably heard since you were young how vital it is to brush your teeth every day. However, if you neglect your daily oral health routine, you leave open the door open for plaque and tartar to gather all around the teeth. When too much accumulates, a calculus bridge is formed—the buildup connects the teeth and gums together. Unfortunately, one man attempted to get rid of it by brushing very intensely. The "bridge" literally fell—resulting in his teeth falling out!
Although dental emergencies can be unpredictable, there are certain dental habits you can do daily to protect yourself from many of them. By cleaning your teeth on a regular basis–and attending your biannual checkups and cleanings with your dentist–you are more likely to keep your pearly whites safe and healthy!
About the Practice
Costello & DeHart Dental Excellence is eager to help you and your family with any dental emergency 24 hours a day! Their two experienced dentists treat their patients like family while providing expert care. By using the most advanced dental technology and personalized plans, they can get your smile back on track as soon as possible. If you need help right away with a dental issue, contact them through their website or call (847) 259-1111.