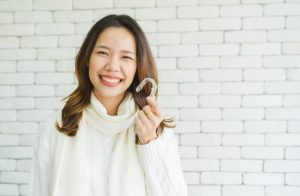 Your teeth have always been a little crooked, but you feel like you missed the boat on the right time to straighten them. After all, you're not a teenager anymore, so you would look really awkward with braces. Fortunately, there's another option to even out your grin – Invisalign in Arlington Heights. With this set of clear plastic aligners, your can straighten your smile without anyone even noticing. Let's talk about what you can expect during the 3 stages of the Invisalign treatment.
1. Planning Treatment
If you're interested in straighter teeth, first schedule a consultation with your dentist in Arlington Heights who is certified in Invisalign. At this visit, your dentist will take impressions of your unique bite. These are used to create your aligner trays. He or she can then make a digital 3-D image of your teeth and manipulate it to show what your smile will look like at different stages in the treatment process. Once you receive your aligners, you can get started on your journey to a straighter smile.
2. Wearing Aligners
To achieve results as quickly as possible, you'll want to keep your aligners in for 20-22 hours a day. They can be removed whenever you brush, floss, eat, or drink anything other than water. In order to keep them unnoticeable, it's a good idea to clean them every day using a special Invisalign cleaning kit that you can get from your dentist or orthodontist. In addition, after you eat, brush and floss before reinserting your aligners. This will keep stains from setting in. It will also prevent bits of food from getting trapped under your aligners, which could result in cavities or gum disease.
Every 2 weeks or so, you'll wear a new set of aligners. Each set focuses on fixing a tiny portion of your smile. You'll pick them up when you visit your dentist every 6 weeks or so to check your progress. Treatment typically only takes 12 to 18 months, as opposed to the 2 years on average that it takes for metal braces.
3. Wearing Retainers
Retainers used to be made of the same bulky metal as braces, but not anymore. These days most retainers are very similar to your Invisalign trays. Once your dentist has given you the okay to stop wearing your aligners, he or she will typically prescribe a retainer to wear constantly for a certain amount of time. This will ensure that your smile does not shift back to its previous position. After enough time has passed, your dentist may tell you that you only need to wear your retainer at night to keep your teeth straight for life.
Compared to traditional braces, Invisalign is a walk in the park. However, it still requires dedication on your part to actually wearing the aligners all the time. If you are interested in evening out your smile, contact your dentist in Arlington Heights today.
About the Author
Dr. Ernie Costello is a graduate of the West Virginia University School of Dentistry. He is a member of many organizations, including the American Dental Association, the Chicago Dental Society, the Illinois State Dental Association, and the Academy of General Dentistry. He is also a certified Invisalign provider. To get started on straightening your grin, contact Dr. Costello here or call (847)-259-1111.