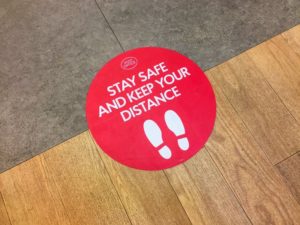 According to the Centers for Disease Control and Prevention, social distancing plays a pivotal role in stopping the spread of the novel COVID-19 pandemic. In fact, researchers believe that social distancing practices have reduced contact between people by 40% and have prevented as many as 185,000 deaths in the U.S. But how do you practice social distancing in situations where you have to breach the 6-foot gap, like at your upcoming dentist visit? Here is everything you need to know about how dentists are making social distancing possible.
A Whole New Dental Experience
Long gone are the days of jam-packed waiting rooms and back-to-back appointments. The recent COVID-19 pandemic has ushered in a new set of guidelines that demand an entirely new experience with social distancing in mind. Here are a few of the changes you can expect at your next visit:
New waiting room protocol – Pre-COVID-19 you could expect to share the waiting room with a handful of other families while you flip through one of the magazines available. Now the waiting room experience will look quite different. First, patients will call in to notify the staff that they have arrived for their appointment. From there, they will be placed in a virtual waiting room and foot traffic will be strategically funneled throughout the office. Waiting rooms that are in use will have a 6-foot distance between seats, hand sanitizer stations at the ready, and plenty of signs to communicate what is expected of patients and staff.
Limited capacity – In addition to the space between patients, dentists will also limit the potential spread of germs by reducing the number of people coming in and out of the office. This will mean spacing out appointments so that people do not become congested in the office. It will also require children, who are able, to attend appointments while the parents wait in the car or outside.
Additional PPE – PPE, or personal protective equipment, has always had a place in a dental office. However, new COVID-19 guidelines recommend additional PPE to be implemented to protect both the patients and staff alike. For the staff, this includes large face shields, long scrubs that do not expose any skin, and plexiglass guards at the reception desk. For you as a patient, this includes wearing a mask, washing your hands before you enter, and having your temperature taken upon arrival.
7 Additional Measures to Prevent the Spread of COVID-19
While social distancing is directly related to limiting the spread of COVID-19, it is most effective in tandem with additional preventative methods. Further ways dentists are committing to safety in their offices:
Advanced staff training
Assigned a safety champion or coordinator
Daily health checks for patients and staff
Contact-less greetings
Change work clothes at work
At-risk patient hours
Cleaning after every appointment
Implementing social distancing and germ-free best practices are just a few of the ways that dentists are reinforcing that safety is a number one priority. While these guidelines can be difficult to adjust to, they will keep you and your loved ones healthy until the curve has flattened!
About Costello Dental
At Costello Dental the team has one goal in mind: they want to do it all and to do it well. With five talented dentists and a hand-selected team of dental hygienists, dental assistants, and office staff, they have created a wonderful reputation doing just that. For more information on social distancing at your next dentist appointment, visit their website or give them a call at 847-259-1111.