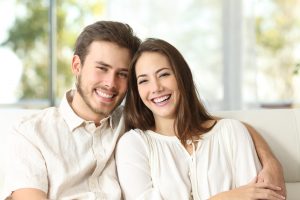 Do you need a dental crown but dread the lengthy process required? Now, you can get the high-quality dental crown you need in just one day. CEREC technology removes the headache and complications associated with receiving a traditional dental crown. In just one day, your tooth will be prepared and your new crown will be made in our office the same day so you can walk out with a new smile. At Costello Dental Excellence, we proudly offer CEREC in Arlington Heights to provide you with convenient, comprehensive care.

How is CEREC Different?
The process to receive traditional dental crowns requires multiple appointments. During the first appointment, your tooth is prepared and impressions are taken. However, impressions are uncomfortable and often cause difficulty for those who have severely damaged teeth. For some people, this makes impressions not an option. But, the impressions are needed to create the crown which are sent to an off-site lab. While the crown is being created, a temporary crown is attached.
After the new crown has been sent back to the dental office, you have to come in for a second appointment. During the final appointment, the temporary crown is removed and the permanent crown is bonded.
Due to the discomfort and long process, many do not enjoy getting a dental crown. Now, the process is easier with CEREC. With CEREC, you only need one appointment. Plus, you will not need to use impressions and a temporary crown is not needed.
With CEREC, your tooth will be prepared. Then, we use 3D scans and images, which are used to create your crown. This is ideal for those who cannot use traditional impressions. We use the images from the scans with our CAD/CAM software, where we create your crown to your exact specifications. We will ensure the crown meets the size, shape, and color you need for functional and aesthetic purposes.
After all of the specifications have been created, the information is sent to our in-office milling machine. The milling machine creates your custom crown from a single block of material. In about an hour, your new restoration is ready to be bonded to your tooth.
Benefit from Same-Day Crowns
By having this technological enhancement in our office, we are able to use the machine for a variety of same-day dentistry services. As a cosmetic dentist in Arlington Heights, our dentists are able to use the same-day crowns for both restorative and cosmetic purposes.
Although the process is quicker than traditional crowns, the quality of the crown remains uncompromised. You will gain a durable and reliable crown that looks and functions naturally. Caring for your new restoration is simple. Brush and floss your teeth regularly while avoiding any habits that can lead to damage. In addition, you will need to visit our office twice a year for regular cleanings and checkups.
If you are in need of a new crown but dread the process involved with traditional crowns, contact our office today to see how same-day dentistry can help you.