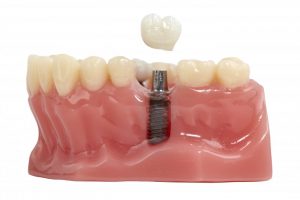 If you've decided to get dental implants, it's very unlikely that you'll need to worry about complications after the surgery. After all, the success rate for dental implants is as high as 95%! Of course, that unfortunately means there's still a 5% chance of failure – an extremely low chance, to be sure, but a chance nonetheless. If you want your new teeth to last, it's important to know how to deal with a failed dental implant in Arlington Heights; read on to learn what could cause an implant to fail and how you can try and save it.
What Can Cause Dental Implant Failure?
While your dentist in Arlington heights can minimize the risk of dental implant failure by finding and addressing potential issues before the surgery (such as by performing bone grafts to add necessary density to the jaw or treating gum disease), complications can still occur if:
The bone around the implant post does not heal properly.
You develop gum disease after the implant is in place.
The implant was improperly placed during surgery.
The area around the implant post suffered from severe physical trauma.
Certain lifestyles can also lead to implant failure. Smoking, poor oral hygiene, and certain medical conditions such as diabetes are all common risk factors.
How Do You Know If an Implant Has Failed?
If you've noticed that your implant feels wobbly or tends to move whenever you chew your food or speak, it's a sign that it hasn't integrated with your jaw properly. An implant that has failed completely will be consistently movable, or it might even come out of your mouth altogether.
Other warning signs may include:
Pain around the site that occurs long after the initial placement.
Red or inflamed gums.
Swelling around the implant.
Difficulty while chewing (specifically, experiencing pain whenever you bite down on something).
What Can You Do to Treat a Failed Implant?
Implant failure can occur shortly after surgery or several years down the line; as soon as you notice the signs of a potential problem, get in touch with your dentist right away. If they confirm there's an issue, they can remove the implant in order to perform any necessary treatment. Sometimes all that's needed is to clean the area so that a new implant post can be placed. On the other hand, if bone loss or an infection has occurred, your condition will need to be treated before dental implant restoration in Arlington Heights can be attempted again.
It's important to remember that implant complications are rare to begin with, and even when they do occur, there's a good chance that you'll be able to get a new implant once the underlying problem has been fixed. Don't let a fear of failure stop you from repairing your smile with the best restoration available!
About the Author
Dr. John E. Costello has lived in Arlington Heights with his family since 1949. As part of his continuing dental education, he has completed courses on implant restoration, and he can offer diagnostic treatment planning and follow-up restoration for all implant procedures. To schedule an appointment or ask about possible dental implant complications, you can contact his practice, Costello Dental Excellence, by visiting his website or calling (847) 259-1111.