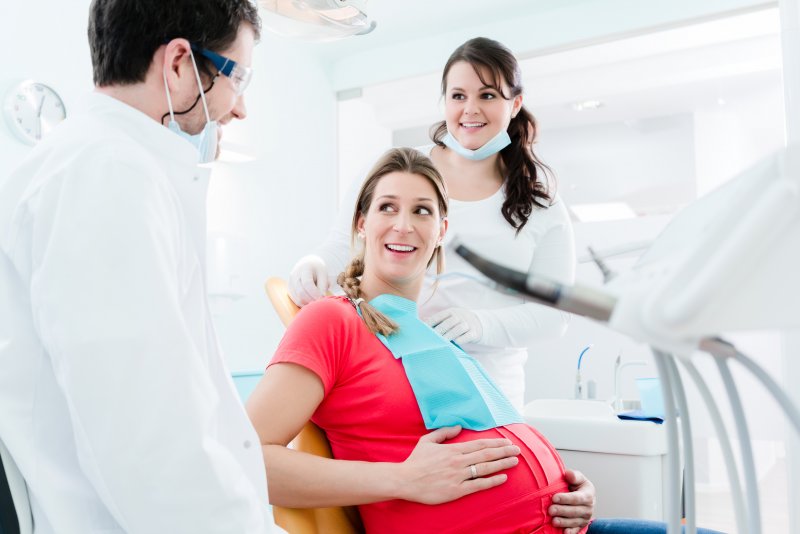 For many women, pregnancy means all sorts of uncertainties and worries. As much as you want to get dental work done to keep your smile in good shape, you want to make sure that it is okay for both you and your baby. Your concerns are common and completely understandable. Continue reading to learn how you can safely receive dental work while you are pregnant as well as which procedures you should postpone until after your baby is born.
Are Cleanings and Checkups Safe When You're Expecting?
It is both safe and highly encouraged to have your teeth cleaned and examined during your pregnancy. When your hormone levels are higher than usual, you are much more likely to experience gum inflammation, bleeding, and irritation. By seeing your dentist during this time, you will be more easily able to avoid oral infections, such as periodontal disease, which can lead to preterm birth.
Are Other Dental Procedures Safe When You're Pregnant?
When you are pregnant, you should do everything in your power to prevent infections. This means having dental work, like fillings and crowns, may be necessary. Emergency procedures, like root canals and extractions may also be a must. Your dentist should administer the smallest amount of anesthesia possible to ensure that you are comfortable. This can help to reduce the stress on both you and your baby. It is safe for your dentist to use local anesthetics, like lidocaine, during these procedures. If it is required for your treatment, they may recommend a category B antibiotic to prevent and treat infections.
If you are interested in getting elective or cosmetic dental work when you're pregnant, it is best to wait until after the birth of your baby. Most of these treatments are fairly safe, but it is always best to avoid any risks of complications if possible.
Can You Get Routine X-Rays While You're Pregnant?
The American College of Radiology reports that no single diagnostic x-ray has a radiation dose significant enough to cause any adverse effects on an unborn child. The ADA considers dental x-rays to be safe with appropriate shielding. However, if your x-ray isn't for emergency treatment, you can usually postpone it until later if you would prefer to do so.
If you're expecting a baby, be sure to let your dentist know how far along you are. This way, all of the necessary precautions will be taken for you and your baby when you receive treatment. If your pregnancy is considered high-risk, this is also something to make your dentist aware of. The wellbeing of you and your baby is the number one priority of your dental team.
About the Author
Dr. Ernie Costello earned his dental doctorate from the West Virginia University School of Dentistry. Currently, he is a proud member of the American Dental Association, Illinois State Dental Association, Chicago Dental Society, and the Academy of General Dentistry. For more information or to schedule an appointment at his office in Arlington Heights, visit his website or call (847) 259-1111.