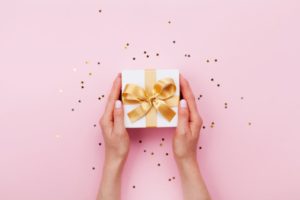 Gift-giving is one of the most fun aspects of the holidays, and it's never too early to start. Seeing someone's eyes light up with excitement brings the satisfaction and pride in knowing you gave the perfect gift. Holiday shopping can be stressful, but your dentist in Arlington Heights is happy to help. With a few days left before the holiday shopping season starts, why not make things easier on yourself and consider giving the gift of a beautiful, healthy smile? Here are 4 gift ideas that can help your friends and family have beautiful teeth all year long.
Flossers
Water flossers are very popular right now. A water flosser is a handheld device that sprays steady pulses of water between your teeth. They can be great for a parent, a spouse, or anyone with braces or dental bridges to aid in maintaining a healthy smile. They also work well as an alternative to dental floss for people with arthritis.
Electric Toothbrushes
Electric toothbrushes come in a wide range of colors and sizes. They can also range in price from $5 to $200. Studies show electric toothbrushes clean teeth and gums better than manual toothbrushes, helping to fight gingivitis. Plus, they can make brushing fun for kids. Most electric toothbrushes have built-in timers, so it can help make sure they brush for the recommended two minutes. It is also a wonderful gift for anyone who may suffer from arthritis, as holding and using a manual toothbrush can be incredibly painful.
Teeth Whitening
Giving the gift of a white smile is a wonderful idea for anyone, but especially those who have recently completed orthodontic treatment. About 80% of people who have recently gotten braces taken off opt for a teeth whitening procedure to complete their new look. Store-bought whitening products are easily accessible, but they may not provide the desired results. A professional teeth whitening treatment may offer better results.
Dental Travel Kit
If you have friends or family members who are visiting for the holidays, a dental travel kit may be just what they need. Pick out a chic toiletry bag and fill it with a flosser, travel-sized mouthwash, a travel toothbrush, and a specialized toothpaste (sensitivity toothpaste is great for those who suffer from winter mouth issues). Not only is this a thoughtful gift, but it's also very useful.
Whether you start planning your gifts months ahead or wait until the last minute, helping others improve their oral health is always a great idea. And while you're shopping, don't forget to pick up a little something for yourself!
About the Author
Drs. Ernie Costello and Jay DeHart are committed to providing each patient with personalized, high-quality dental care. This team of dentists and their staff aim to help anyone who enters their doors achieve the smile they deserve. If you'd like to learn more about giving a teeth whitening treatment as a gift this season, visit the website or contact the office at (847) 259-1111.