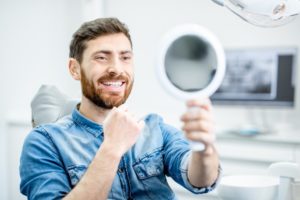 When you look at your reflection or a picture of yourself, are you happy with the way your smile looks? If you're like most people, there's probably at least one thing you wish you could change about your teeth. Thanks to cosmetic dentistry, attaining a gorgeous grin is easier than ever before. No matter how severe your cosmetic dental flaws are, your dentist can develop a plan to correct them. Here are four of the most common treatments your dentist can use to fix your smile.
Professional Teeth Whitening
Stained or yellowed teeth become increasingly common with age. Certain lifestyle habits, like tobacco use and excessive wine consumption, can also contribute to discoloration. Over-the-counter teeth whitening products usually aren't very effective at removing these stains. Luckily, most dentists offer professional-grade teeth whitening kits that are custom-made to deliver the dramatic results you want.
Versatile Veneers
If your smile is marred by various imperfections – like cracks, gaps, or stains that don't respond to teeth whitening treatment – you might think you'll need multiple procedures to correct them all. However, veneers can actually fix all of these problems at the same time! These ultra-thin porcelain shells are crafted to mimic the exact size, shape, and shade of your pearly whites. It only takes two appointments to receive veneers, and once they're placed over the front-facing surfaces of your teeth, they'll give your smile an effortlessly perfect appearance.
Lifelike Dental Crowns
For more significant chips or cracks, you might benefit more from a dental crown. While crowns used to be made from dark metals that left a gray or black tint in your smile, modern crowns use ceramic materials that can be personalized to blend in with the surrounding teeth. They also cover the entire section of the tooth above the gums, shielding it from further damage. Often, the dental crown process takes two appointments, but some dentists offer CEREC same-day crowns that can be designed, created, and placed in about an hour.
Comfortable Clear Aligners
Maybe you wish you could have straighter teeth without having to wear awkward metal braces. Thanks to Invisalign clear aligners, now you can! These transparent plastic trays fit comfortably over your teeth, gently shifting them into their desired positions. You can get the well-aligned smile you deserve without anyone even having to know you're undergoing orthodontic treatment.
Are you ready to finally have a smile you can be proud of? Schedule a cosmetic consultation with your dentist today to find out the treatment that's right for you!
About the Practice
At Costello & DeHart Dental Excellence, we offer all of the cosmetic dentistry services described above and more. Dr. Ernie Costello and Dr. Jay DeHart both earned their dental doctorates from the West Virginia University School of Dentistry and they keep up with the latest dental techniques and technologies to give their patients plenty of options for improving their smiles. To learn more about correcting your cosmetic dental flaws, contact their Arlington Heights, IL dental office online or by calling (847) 259-1111.