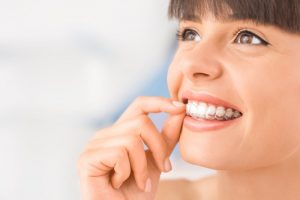 You're unhappy with your bite imperfections, and you're finally ready to have your teeth straightened. The problem is you're not excited about the idea of wearing traditional braces. Thankfully, you have the option of receiving Invisalign in Arlington Heights, but first, read on to receive some tips on how to boost your results!
How Treatment with Invisalign Works
Instead of metal brackets and wires, the Invisalign method uses a series of custom-designed clear trays to gradually and comfortably adjust your teeth until the desired position is achieved. The process starts by visiting your dentist for a consultation, at which time digital images will be captured and used to create a treatment plan that will be sent to an in-network Invisalign lab.
Here are some of the attractive perks of the procedure:
The clear, low-profile trays provide a discreet form of treatment.
The process is typically shorter than the traditional method.
You can maintain a normal diet because the trays are removable.
How to Get the Most Out of Your Treatment
While the above-listed benefits are rapidly increasing the popularity of the Invisalign method, there are some protocols that need to be followed to ensure your treatment is successful.
Remove Your Trays Before Eating
While it's beneficial to be able to remove your trays to eat, it's also a necessity. That's because leaving them in your mouth while attempting to bite into food can result in cracking or warping your trays.
They should also be removed before drinking any liquid other than water to prevent staining.
Keep the Trays Clean
Whenever you remove your trays, you'll need to clean them to prevent the growth of bacteria. The process is simple; it starts with rinsing them to remove any lingering bacteria.
Then, soak them in either denture cleaner or a special product called Retainer Brite, being sure to rinse the trays again before re-inserting them in your mouth.
Perform Oral Hygiene More Often
While the recommended minimum frequency for brushing and flossing your teeth is two times a day, you should be prepared to step-up your efforts when undergoing Invisalign treatment. That's because the same bacteria that cling to your trays will also congregate in the mouth, and they can eventually contribute to tooth and gum decay if not addressed.
Visit Your Dentist Regularly
In addition to following the above instructions, you'll also need to visit your dentist every six months for cleanings and examinations to ensure bacteria don't overtake your gums and teeth, and compromise your new smile.
Today's the Day
Now that you know how to get the most out of your treatment with Invisalign, the next step is to reach out to your dentist in Arlington Heights to schedule a consultation. Soon, you'll have heightened confidence as you enjoy your brand-new smile!
About the Author
Dr. Ernie Costello received his dental degree from the West Virginia University School of Dentistry. He has since gone on the become an Invisalign Preferred Provider who helps his patients experience the joys of having a remade smile. Dr. Costello straightens teeth at Costello Dental Experience, and he can be reached for more information through his website.