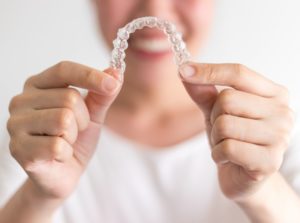 Invisalign in Arlington Heights is the most comfortable and convenient way to straighten teeth—and it's not just for teenagers! Millions of adults have chosen this state-of-the-art orthodontic treatment to achieve a beautiful set of aligned pearly whites. Unlike bulky traditional metal braces, these clear aligners blend into the background of busy professional lifestyles seamlessly. Read on to discover eight reasons why Invisalign is an excellent choice for adults who want a straighter, healthier, and more confident smile.
1.) Nearly Invisible Appearance
It's unlikely that anyone will notice that you're wearing Invisalign aligners unless you tell them. You won't have to worry about a distracting mouthful of metal during your job interview, at parent-teacher conferences, or while spending quality time with your in-laws.
2.) Reliably Predictable Results
There's no guesswork involved in straightening your teeth with Invisalign. This treatment maps out your entire orthodontic process ahead of time, so you and your dentist will know exactly what to expect. Each set of aligners represents a step towards your ideal smile, providing a clear path to reliable results.
3.) Spend Less Time at the Dentist's Office
While you'll need to check in with your Arlington Heights dentist periodically to ensure your treatment is going as planned, you'll be visiting your dentist much less frequently than if you had traditional braces. Additionally, these appointments will also be shorter and even easier to fit into your busy schedule.
4.) No Dietary Restrictions
Whether you're going on a date or cooking dinner for your family, you can continue to enjoy all your favorite foods with Invisalign. Simply remove your aligners, enjoy your meal, then give your teeth a quick brush before popping them back into place.
5.) Less Discomfort
You won't be slowed down or distracted by discomfort during your daily life with Invisalign. This modern service gradually shifts teeth into place without sharp metal wires or brackets in order to minimize dental pain.
6.) Prevent Tooth Discoloration & Cavities
Metal wires and brackets can easily trap food particles, leaving you with tooth decay and yellow teeth after your treatment. Instead of using tools like pre-threaded flossers to clean behind your traditional braces, Invisalign's removable nature makes keeping them plaque and bacteria free an easy task.
7.) Can Be Used After Traditional Metal Braces
Many patients who had traditional braces as children find that their teeth are crooked again in adulthood, especially if they neglected to wear their retainer faithfully. Invisalign is a great way to correct many different kinds of crooked or crowded teeth, including those that have been previously treated by traditional braces.
8.) Treatment Time Could Be Faster
The timeline for your Invisalign treatment will depend on a variety of factors such as your age, how much your teeth need to be straightened, and whether you wear your aligners enough or not. However, in most cases, Invisalign can achieve the desired results within 12-18 months, which is much faster than traditional braces.
Getting a straighter smile while juggling your responsibilities and lifestyle doesn't have to be a pain! Talk to your Arlington Heights dentist today to see if Invisalign clear aligners are a good choice for you.
About the Practice
For nearly 50 years, Costello Dental Excellence has been keeping the smiles of Arlington Heights, IL looking and feeling their best. Their dedicated team of dentists has helped generations of patients maintain great oral health and achieve the beautiful pearly whites they've always wanted. With state-of-the-art technology and modern techniques, they're proud to offer modern, comfortable treatments like Invisalign. If you'd like to see if Invisalign is right for you, they can be contacted via their website or at (847) 259-1111.