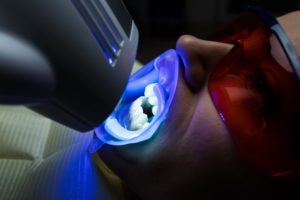 If you are not happy with the state of your smile, you definitely have options to do something about it. There are a lot of treatments out there to help you feel confident about your teeth, but how long does cosmetic dentistry last? Will your results be permanent or is another dental visit needed soon? Keep reading to learn from your cosmetic dentist in Arlington Heights about the lifespan of various treatments and how long you'll be able to benefit from them.
Porcelain Veneers
Most patients can get a decade of wear from their veneers. With proper maintenance, their lifespan can extend to 20 years. Potential factors that could damage veneers include tooth trauma, teeth grinding, biting hard substances, poor oral health habits, or infections. You can begin to enjoy your new veneers after only two appointments in most cases.
All-Ceramic Dental Crowns
If a dental crown is properly maintained, it can last 5-15 years on average. Dental crowns made from silver amalgam might be durable, but they don't do your smile any favors when it comes to appearance. Some factors that affect a crown's longevity include oral hygiene, eating habits, teeth grinding, biting fingernails, chewing ice, drinking very hot beverages, and using teeth to open packaging. With CEREC crowns, they can be created and placed in just one appointment to save you time!
Teeth Whitening
In-office teeth whitening can significantly brighten your smile in as little as one hour without causing sensitivity or discomfort. With good oral hygiene, in-office treatment can keep your grin looking great for 1-3 years!
With at-home teeth whitening kits, you may see results after two weeks and then follow with occasional touchups to maintain your bright smile. Again, a consistent oral hygiene regimen is crucial, and it can help your whitening kit keep your teeth looking great for a year or more. Your dentist will provide specifics on how long and how often you should use the whitening products.
Tooth-Colored Fillings
These composite resin fillings serve as an alternative to traditional amalgam material. The lack of metal means they can blend into your natural smile and not be sensitive to changes in temperature. They are also durable.
As for the lifespan of tooth-colored fillings, you can enjoy their natural look for five years with proper care. This is another treatment option where just one appointment will do the trick.
If you are looking for "a whole new you" when it comes to your smile, cosmetic dentistry can be a difference-making decision. You can change your appearance drastically. How long does cosmetic dentistry last – quite a while when you do your part to maintain the results. That includes regular dental checkups with your dentist in Arlington Heights and being diligent about oral hygiene.
About the Practice
At Costello & DeHart Dental Excellence, our dentists Dr. Ernie Costello and Dr. Jay DeHart lead a staff that strives to be engaged, respectful, flexible, collaborative, and receptive to constructive feedback. We know your schedule can get busy, so we offer evening and Saturday hours. If you are interested in cosmetic dentistry, we offer all the treatments referenced in this post. You can schedule a consultation on our website or by calling (847) 259-1111.