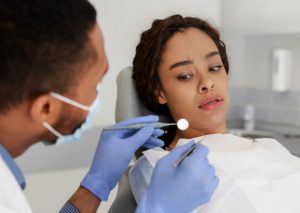 Do you get nervous at the idea of going to the dentist's office? This is much more common than you may think. Over 30 million Americans experience stress related to their dental visits. However, this doesn't mean you should avoid dental care. It is essential you visit a dentist regularly for checkups, as oral health and overall health are directly related. Your dentist in Arlington Heights shares some tips to help you combat dental anxiety so you can have a more comfortable visit.
Ask for a Step-by-Step Rundown
If you don't know what your dentist is doing, you might experience additional stress. When you arrive for your appointment, ask if your dentist can explain how they plan on treating you and the order of activities. They will be happy to map out what you can expect during your visit to reduce your anxiety.
Pick a Good Time of Day
If your schedule is looking busy, adding a dental appointment to the mix isn't going to help. Choose a day and time that fit best into your calendar. This way, you can have more time reserved and not feel rushed. Fortunately, your dentist in Arlington Heights offers appointments in the evening and on Saturdays.
Talk to Your Dental Team
If your dental team isn't aware that you have dental anxiety, they won't be able to take measures to make you feel more comfortable. Let them know if there is anything they can do to put you at ease throughout your appointment. Address any concerns that you have as well. They want to help you feel more relaxed.
Listen to Music
For many people, it is the sound of dental instruments at work that triggers anxiety. If this is what worsens your fear of the dentist, ask if you wear headphones and listen to music while they do their job. By putting on relaxing classical music, soothing nature sounds, or your favorite playlist, you will be able to drown out the background noise and hopefully have a more relaxing experience.
Focus on Breathing
This may seem like an obvious one, but many people hold their breath when they are in a stressful situation. It may be beneficial for you to practice some breathing exercises to help you feel calmer. Slow, regular breathing is an effective method of stress reduction.
A dental visit may not be your idea of a good time, but it doesn't need to be something that makes you worry as it approaches. Implement the steps above and you'll likely find that you are less reluctant to receive the treatments your smile needs!
About the Practice
At Costello & DeHart Dental Excellence, our dentists Dr. Ernie Costello and Dr. Jay DeHart lead a staff that strives to be engaged, respectful, flexible, collaborative, and receptive to constructive feedback. We know your schedule can get busy, so we offer evening and Saturday hours. Our staff wants to make your visit as pleasant as possible. If you have some follow-up questions from this blog post, feel free to ask us when you schedule your next appointment on our website or by calling (847) 259-1111.