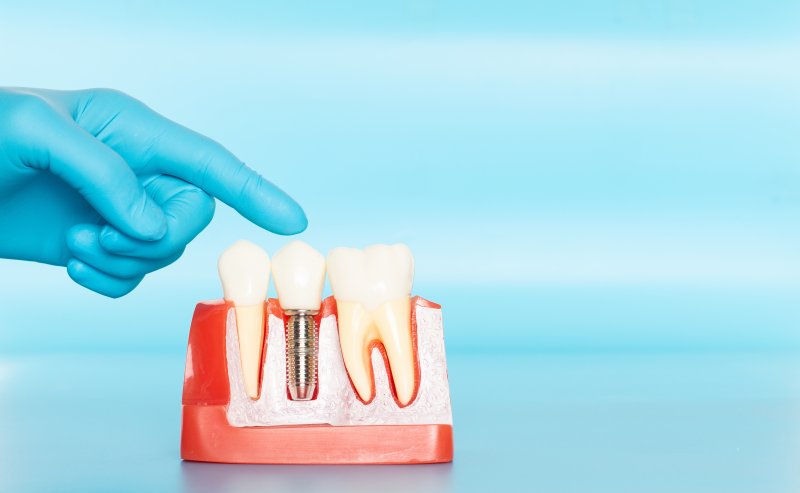 One of the biggest reasons that dentists love to recommend dental implants for any patient with missing teeth is that the procedure is extremely predictable. The success rate is around 95%, and in general you can expect implant posts to last for decades or even a lifetime. Of course, part of the reason the success rate is so high is that the dentists and specialists who place them take a number of steps to minimize the risk of complications before the surgery takes place. Below are 4 important factors that contribute to dental implant success.
1. Acting as Quickly as Possible
You should start the dental implant process as soon as possible – ideally as soon as you realize your tooth will have to be removed. This is due to the fact that as soon as the natural tooth is gone, the bone density in the area where it was lost will start to decrease. Dental implants need a healthy amount of bone to join with, so less bone density can affect the chances of success. It's still possible to place dental implants after bone loss (even if a bone graft is required first), but taking the first steps quickly will make the overall process much smoother.
2. Ensuring the Health of the Patient
Before any implant procedure, your dentist will evaluate your oral and overall health. Your body needs to be in good enough shape for the surgery, and any oral health issues like gum disease that could lead to implant failure will need to be treated first. If your health is found to be currently compromised in some way, the implant process won't move forward until the issue has been dealt with.
3. Getting Care from a Trained Expert
Dental implant placement is a relatively simple surgery, but it is a surgery nonetheless. Some procedures will be more complex than others, which means that the rate of success depends largely on the expertise and experience of the dentist. Some dentists have been specifically trained in placing implants and can perform the procedure themselves; those who do not have such training will need to refer you to a separate specialist instead. In any case, steps will be taken to make sure that your new smile is in the hands of a true expert.
4. Being Committed to the Treatment
The final ingredient for any successful implant procedure is long term commitment from the patient. You need to be ready to take care of your dental implants every day if you want them to stay in your mouth over the long term. Fortunately, all it takes is the same oral hygiene routine and regular dental checkups that you would use to take care of your regular teeth.
You can count on your dentist to take every possible step to make sure you're able to fully enjoy your new teeth without problems. If you're interested in getting dental implants to fully restore your smile, schedule a consultation today.
About the Author
Dr. Jay DeHart is a graduate of the West Virginia University School of Dentistry, where he currently serves on the alumni board. He practices all areas of general dentistry, but he has also received additional training in placing dental implants, allowing him to complete the entire dental implant procedure in-house at Costello & DeHart Dental Excellence in Arlington Heights. To schedule a dental implant consultation with Dr. DeHart, visit our website or call (847) 259-1111.