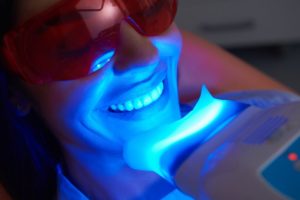 When the summer sun is beating down on you, few things are more relaxing than chilling by the pool with a glass of ice-cold soda. The deliciously sweet taste mixed with the refreshing carbonation is a combination made in heaven. Until a few weeks later, when you notice your once pearly white teeth are now looking yellow and frail.
Fortunately, a quick trip to the dentist can restore your bright smile in as little as one visit! In fact, that is one of the reasons it is the most requested cosmetic dentistry procedure. If you are considering teeth whitening, but are wondering about potential tooth sensitivity, then read on.
Does Teeth Whitening Cause Tooth Sensitivity?
Tooth sensitivity is a possible side effect of teeth whitening. For some, the peroxide used in the whitening procedure can cause feelings of discomfort when consuming hot or cold beverages and meals. However, in most cases, the sensitivity is mild and disappears a few days after treatment.
4 Tips to Avoid Teeth Whitening Sensitivity
Since the sensitivity can be uncomfortable for some patients, it is important to be aware of prevention tactics you can take on the front-end to avoid it. Although there isn't currently a method of removing it entirely, patients who follow the below tips are less likely to experience tooth sensitivity:
Avoid beverages and foods that are extremely hot or cold.
Try shorter application times.
Use products with lower peroxide levels.
Opt for a toothpaste designed for people with sensitive teeth.
Proper Oral Hygiene Is Crucial
While some stains and discoloration are from age and genetics, others are from poor dental habits and lack of a proper oral hygiene routine. Although teeth-whitening treatments can make your teeth up to 10 shades lighter in one visit, it cannot correct underlying issues, like tooth decay and cavities. Therefore, it is of the utmost importance that you prioritize your oral care regimen before, during, and after your procedure. This will ensure that your teeth and gums remain strong and healthy from start to finish.
Stains and discoloration on your teeth can take a toll on your confidence. Although some patients feel some discomfort, it is a small price to pay to restore your smile to its former glory. After one treatment, your smile will turn heads for all the right reasons!
About the Practice
At Costello Dental, each member of the team is passionate about providing patients with a welcoming, relaxed, professional atmosphere. That is why many of their patients have been coming to Costello Dental since their very first checkup! Backed by their entire team, Dr. Ernie Costello and Dr. Jay DeHart are dedicated to building personal relationships that result in beautiful smiles." . If you are looking to give your smile an upgrade with cosmetic dentistry, visit their website or give them a call at 847-259-1111.