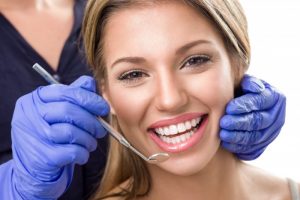 If you're on the market for choosing a dental practice in your area, you'll quickly find that looking for a dentist in Arlington Heights isn't the easiest tasks. After realizing that your child needs a dentist that can handle pediatric care, a specialist for your partner's unfortunate gum disease, and a dentist that understands orthodontist for your teen's smile, you'll start to anticipate being pulled in all different directions for your family's dental care.
Thankfully, when you visit a practice that has the specialists and a cosmetic dentist in Arlington Heights all in one roof, you can make one visit for everyone you love! Learn more about why it's best to visit a dental practice that takes pride in being a "one stop shop" for your dental care in this week's blog post.
Find the Dental Care Your Family Needs All Under One Roof
When you're looking for the best practice to bring your family to, you should be able to understand what they have to offer right from the practice's website. Typically, there's a mission statement within the home page or "about us" section of the site. The best type of practice to bring your loved one's to with the least amount of hassle for you should have a statement along the lines of completing your dental work and completing it well, like ours!
Out of a team of dentists, you should be able to find an expert that can help groom your child's smile into one of strength, durability, and of course gorgeous aesthetics over the years. Also, if anyone has gum health issues, there should be a periodontist on hand as well! Your dentist should be able to offer everything from basic preventive services all the way to more specialized ones like dental implants and Invisalign to ensure our patients always have access to the care their smile truly needs.
Choosing Your Dentist is Easier Within One Practice
When you choose to visit a practice that has multiple dentists, they all shouldn't be general dentists. Most of them—or all—should have completed some continued education or specialized in an area of dentistry that can provide you expert care.
It's true that all dentists complete doctoral level studies in order to learn basic dentistry and give them the ability to provide general service, but an excellent practice employs those that take their education a step further.
Specialists continue to improve their skillset by continuing education each and every year. This allows them to stay up to date with the most modern dental practices as well as preform more complex dentistry like implant placement.
This is the kind of practice you want to visit because you can trust that they'll always be able to offer you innovative, effective dental care.
If you're ready to explore what our office may have to offer you, you can simply call us to schedule your visit. Our dentists would like to meet you!
---
About Our Office
Here at Costello Dental Excellence, we believe in providing only the best of the best when it comes to your oral health care and customer service. We have a team of professionals that can meet each and every one of your loved one's needs. Call us today to schedule your family's first visit.