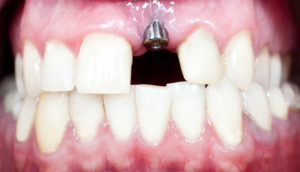 After years of being denied the quality of life that you deserve, you finally made the decision to have dental implants surgically inserted. One of the most attractive things about this procedure is the fact that the implants are screwed into your jawbone, which is the best option you've discovered thus far for a solid and dependable structure. But you're disappointed to notice that one of your implants feels loose. Thankfully, your restorative dentist in Arlington Heights has some advice about what you should do.
What to Do if Your Implant is Loose
If you notice that one of your implants is failing, the most important thing to do is leave it alone. Avoid playing with it with your tongue or finger. This could worsen whatever damage has been done and also leave you susceptible to infection, as a loose implant can leave your inner gums slightly exposed.
Next, you should immediately reach out to your dentist. He will advise you as to how to proceed in the safest and most effective manner.
Why Do Dental Implants Get Loose?
There are several factors that contribute to a failing dental implant:
Improper Crown – One of the reasons that your implant may fail is because the dental crown may not be in the proper place or attached incorrectly.
Failed Integration – In rare instances, dental implants will fail within a year of being placed because they fail to integrate with the jawbone. This commonly happens among habitual smokers, as the toxins inhibit the oxygen that encourages the healing and fusion necessary after the implant process.
Bone Loss – Another possible cause is bone loss that can happen due to gum disease.
How Your Dentist May Repair a Loose Implant
There are several remedies that your Arlington Heights implant dentist can employ when you have a loose dental implant, including:
Crown Adjustment – If the crown is misplaced, one option your dentist has is to screw it down differently or replace the cap of the abutment (the natural tooth that the crown attaches to).
Bone Graft – In cases where there is bone loss that prevents the implant from securely attaching to your jawbone, your dentist may consider a bone graft, which would involve removing a small portion of healthy bone material from another area and surgically inserting it where the failing implant needs to attach to.
Diagnosing Gum Disease – A more preventive method is to diagnose the type of advanced gum disease that affects dental implants (peri-implantitis), which can save the implant through using antibiotics and a strict regimen of oral hygiene.
The good news is that since dental implants were first introduced in the 1950's, dentist have vastly improved their processes, efficiency and overall success rates. And to date, dental implants of Arlington Heights are still the surest solution for restoring your missing teeth. Contact your local dentist today to learn more about the process.
About the Author
Dr. Ernie Costello graduated from the West Virginia School of Dentistry. He practices all aspects of general dentistry at Costello Dental Excellence and can be reached for more information through his website.