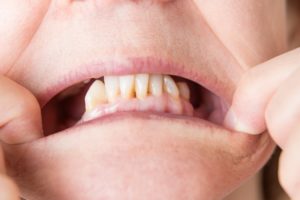 If you were to lose a front tooth, it's likely a given that you would want to replace it as soon as possible in order to get your smile looking good again. Losing a back tooth is often not taken as seriously by people simply because it's not something that is noticeable to others. If no one knows it's missing, how necessary is it to replace it? It might be surprising to hear, but living with missing teeth, even in the back, can pose serious risks to your oral health. Keep reading to learn what your Arlington Heights dentist has to say about the issues that can arise from missing back teeth.
Why You Should Replace a Missing Back Tooth
"Out of sight out of mind," right? Not when it comes to missing teeth! Here are the main reasons why it's so important to replace a missing tooth in the back of your mouth:
Your Surrounding Teeth Will Be Affected
Unfortunately, losing one tooth is not an isolated issue. Much like plants will grow where the sunlight is, your teeth will shift in order to fill empty space. This might sound like a good thing at first, but it can cause severe misalignment in your remaining teeth, negatively affecting your smile as a whole.
The Risk of Infection Increases
Your teeth and gums work together to not only hold one another in place, but they also protect your surrounding soft tissues and jaw from infection. When an adult loses a permanent tooth, the empty space leaves an open door to bacteria into the gums. If left untreated, this can develop into infection and gum disease, which will eventually cause additional tooth loss and jawbone deterioration.
Oral Functionality Will Be Affected
Your back teeth might not be visible to the public, but they work very hard for you every day to help you chew and speak. Without one or more of them, you may find yourself having difficulty enjoying foods you once did, or pronouncing certain words.
If you find yourself in a situation where you need back tooth replacement, consider asking your dentist about dental implants. These are a wonderful prosthetic tooth option that not only replace missing teeth, but help promote new jawbone growth!
About the Practice
Dr. Ernie Costello and Dr. Jay DeHart know how important it is to replace missing teeth in order to promote oral health. They make it a priority to offer each of their patients the gift of restored smiles and oral functionality through dental implants. Their combined years of experience and expert skills allow them to provide the highest quality of care. Are you ready to replace your missing back teeth? Schedule a consultation online or call (847) 259-1111.