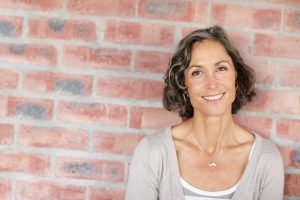 Crowns in just one visit are possible from Costello Dental Excellence! With CEREC, or chairside economical restoration of esthetic ceramics, your dentist in Arlington Heights IL can perform each step of the dental restoration under one roof. Yes, crowns are completed in a single appointment. CEREC makes same day dentistry possible for dental crowns, inlays, onlays, and dental veneers.
How Does CEREC Work?
The CEREC system is comprised of three parts. It uses an acquisition device, 3D CAD (computer-aided design) software, and the milling machine.
The acquisition device is used to take photographs of the tooth after it has been prepared for the restoration. The device produces a high-quality image which is displayed immediately on the computer screen.

The 3D CAD software projects a comprehensive view of the affected tooth. The software provides a far more in-depth view of the tooth than has ever been possible.

The milling device manufactures your new dental restoration from a single block of ceramic in a matter of just 15 minutes.
What Are the Benefits of CEREC?
The advantages of choosing same day restorations in 60004 are significant. Patients who are suited for same day dentistry enjoy the efficiency, convenience, and quality results possible with CEREC. Additional benefits include:
Digital imagery eliminates the need for traditional impressions. Impressions may be difficult for patients with sensitive gag reflexes.

Highly accurate 3D images improve treatment planning process for a more successful restoration overall.

Restoration is completed in just one visit to the dentist. That saves you valuable sick days and vacation time.

Ceramic used in CEREC is highly customizable to blend in with your smile.

No need for temporary devices, which often break, fit poorly, or stick out among the rest of the teeth.
Whether it's for a crown, inlay, onlay, or veneer, busy adults appreciate the ease of same day dentistry. Recent research suggests CEREC restorations can last longer than 10 years.
How Is a CEREC Restoration Completed?
To fit you with your one day restoration, your dentist will first prepare your tooth. This process involves removing all decay and buffing tooth enamel to make room for the new crown, inlay, onlay, or veneer. Then your dentist captures images of your tooth using the acquisition device. CAD software is used for designing your restoration, and, once complete, your dentist sends this information to the milling machine. After about 15 minutes, your restoration is ready for placement. Your dentist will check to make sure it fits, feels, and looks just like it should, and then the device is securely bonded onto the tooth — and you leave our office with your newly restored smile!
CEREC in Arlington Heights IL eliminates the need for multiple visits to the dentist, saving you time, money, and stress. Contact Costello Dental Excellence to request an appointment for same day dentistry today!