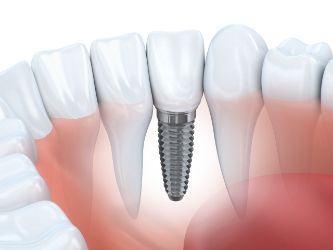 Dental implants are widely considered the gold standard in tooth replacement because they can last a lifetime and look and feel incredibly natural. In fact, they're so popular that an estimated 5 million new implants are placed each year. But what if you're missing a front tooth – can dental implants still work for you? You'll be glad to know that the answer is yes! In this blog, you'll find out why they're such a great option for both front and back teeth, and how a dentist can make sure you're a good candidate for the procedure beforehand.
The Benefits of Dental Implants For the Front Teeth
When you're missing a front tooth, your options for replacement include a dental bridge and a partial denture (sometimes called a "flipper"). But dental implants will give you many advantages that you simply can't get from a bridge or denture, including:
A dental bridge requires the teeth on either side of an empty space to be ground down for dental crowns, which permanently alters them. An implant won't affect the adjacent teeth at all.
Implants preserve your jawbone, which helps you maintain a youthful facial structure over time.
Dental implants replace both the root and crown of your missing front tooth, which provides dramatically better stability and chewing strength than other options.
Dental implants are easy to maintain with good oral hygiene habits and regular checkups.
Since an implant looks and feels like a natural tooth, you'll have more self-confidence when eating, speaking, and smiling.
When cared for properly, dental implants can last a lifetime.
Ensuring You're a Good Candidate For Dental Implants
When it comes to replacing a front tooth with a dental implant, one common consideration is the quality and amount of jawbone in the area. Dental implants require plenty of healthy bone for strength and support, but there naturally isn't as much bone around the front teeth as there is around the back teeth.
A dentist will start by taking images of your jaws and may recommend a bone graft beforehand to strengthen and fortify the area. This ensures that your implant will have the support it needs to function well for many years.
They'll also evaluate your medical history, dental health, and lifestyle to make sure the procedure will be a success. This includes whether you use tobacco (non-smokers have a success rate of over 95%, but that drops to just 85% in smokers), and that you have good gum health, which is necessary for proper healing and the long-term prognosis of your implant.
Even with these considerations, dental implants work beautifully for most people. And when you're missing a front tooth, they're an outstanding way to enjoy a healthy, complete smile for life.
About the Author
As an experienced family dentist, Dr. Ernie Costello has recommended dental implants for his patients in a variety of different situations because of the many benefits they provide. With a natural look, feel, and function, he's found that they're a great option for replacing both front and back teeth. If you'd like to know how dental implants can benefit you or have any questions, he can be reached via his website.