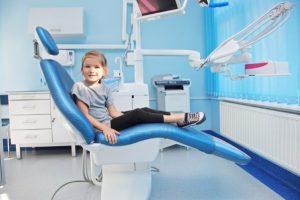 February is a special month, and not just because of Valentine's Day. It's also National Children's Dental Health Month, which is dedicated to educating the public about the importance of early dental care. Besides their oral hygiene habits at home, your child's smile also relies on the services they receive from their children's dentist in Arlington Heights. You can help give your child the foundation they need for a lifelong healthy smile with early dental care.

Protecting Your Child's Teeth
Although your child's primary teeth are only in place for a few short years, they serve an important purpose. They allow your child to learn how to chew and speak. They also act as placeholders for their permanent teeth. If a tooth is damaged or lost too soon, it can have lasting consequences on your child's oral health and development.
It's best to take the time to teach your child the importance of caring for their teeth from a young age. This not only keeps their primary teeth healthy, but it also sets the groundwork for their permanent ones to ensure their smile lasts for a lifetime.
Benefits of Early Dental Care
It's recommended you take your child to see a dentist for kids in Arlington Heights for a routine appointment before their first birthday. Although this may seem a bit young, it allows the dentist to build a trusted relationship with your child. This leads to stress-free appointments because they will feel comfortable and relaxed. It also teaches them the importance of regular dental care, so they are more likely to maintain their preventive appointments as adults.
During routine visits, your child's teeth are cleaned, and their oral hygiene habits are discussed to make recommendations for improvement. Their dentist in Arlington Heights will also perform a comprehensive checkup, which may also include X-rays to look for any potential issues that may be brewing beneath the surface. The dentist may also suggest certain preventive treatments to help keep their teeth strong and healthy, like dental sealants or a fluoride varnish.
Promote a Healthy Smile
You can help keep your child's smile healthy in between appointments by following a few simple tips:
Brush their teeth twice a day for 2 minutes each session.
Choose a soft-bristled toothbrush that accommodates the size of their mouth.
Use a fluoride toothpaste.
Introduce daily flossing around the age of 6.
Limit their consumption of sugary foods and drinks.
Invest in a Healthy Smile
While you spend time with your loved ones for Valentine's Day, don't forget to commit to your child's smile. Create the foundation they need for lasting dental health.
About Costello Dental Excellence
Costello Dental Excellence offers over 50 years of combined experience in dentistry from our father/son dental team. We treat our patients like family as we strive to create generations of healthy, beautiful smiles. We focus on prevention to keep the teeth and gums healthy. If your child needs a preventive appointment, we cater to their comfort to ensure a stress-free visit. Contact our office today to schedule their appointment.