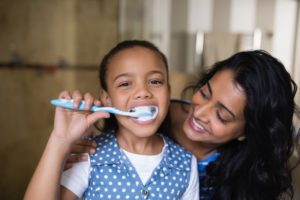 There are few things more wonderful than seeing your child grow. From their first step to getting a "grown-up" bed, there are so many joys in watching them mature. And this includes their smile! Their first tooth is always monumental…and before you know it, they are putting it under a pillow for the Tooth Fairy. Time goes by fast, and it can be easy to not be aware of some very important factors concerning your little one's teeth. Read on to learn four essential facts to ensure their smile continues to grow strong, healthy, and beautiful!
#1. Tooth Decay Is the Most Common Childhood Disease
It's widely known that kids are at high risk of getting cavities, but unfortunately, it is much more common than people think. According to the CDC (Centers for Disease Control and Prevention), 52% of children ages 6-8 have had at least one cavity.
Additionally, tooth decay is 5 times more common than asthma in children and 20 times more common than childhood diabetes, making it the leading childhood disease. This is why it is essential to teach your kiddos the importance of their oral health hygiene. Teaching them good daily dental habits will keep their teeth healthy and decay-free for their childhood.
#2. Begin Caring for Your Baby's Teeth Earlier Than You Think Should
When your baby's first pearly whites begin to come in, it's essential to start cleaning them. Primary teeth are vulnerable to cavities as soon as they appear so you should do all you can to prevent any bad bacteria and food debris from attacking them. To keep them clean, you can gently brush them with a baby-sized toothbrush and a very small amount of children's fluoridated toothpaste. Flossing can be done as soon as two of their little teeth are touching.
4.) Baby Teeth Should Be Treated the Same as Permanent Teeth
It can be easy to believe the fallacy that since baby teeth eventually fall out, they don't have to be tended to as much. However, if a child's baby tooth decays, it can cause the permanent tooth to develop incorrectly. Also, your little one's baby teeth play a part in the development of their speech, as well as helps them to chew their food properly, giving them adequate nutrition. Any cavities, cracks, or chips in their primary teeth should be just as much of a priority as if they were their permanent teeth. By doing so, you are already taking care of their future adult smile!
5.) Their 1st Dental Checkup Should be Completed by Their 1st Birthday
Parenthood is busy and full of nonstop action so it can be easy for time to pass and realize it may be time for your child to visit the dentist for the first time! Oftentimes, this isn't even thought of until your little one is several years old. However, the American Dental Association recommends that children get their first dental checkup before their first birthday. This will help them get used to the idea of visiting the dentist at a very early age. By allowing them to get accustomed to this essential part of their oral health, they will be ready and willing when it's time for a more thorough exam, cleaning, and necessary treatment.
About the Practice
At Costello & DeHart Dental Excellence, our goal is to keep your child's smile healthy for life through the expertise of Dr. Ernie Costello and Dr. Jay DeHart. Our children's dental services provide gentle check-ups, thorough cleanings, and extensive preventive care to keep an eye on any developmental concerns. With a 5-star rating on Google from 140 reviews, we use personalized plans and advanced technology to keep your child's oral health in top condition. To schedule an appointment, contact us through our website or call (847) 259-1111.