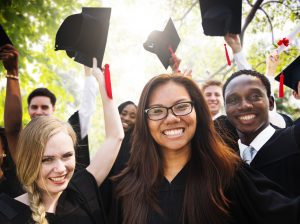 You've worked diligently to graduate – the long hours of studying and writing papers after the 8-hour days at your full-time job have been grueling, but worth it. You've developed quite the coffee habit to make it through and when you smile in anticipation of your upcoming big day, you feel self-conscious. Not only do you see the noticeable discoloration from all the espresso, you can't help but see the chips and the gap in the front. You've worked so hard for this accomplishment, and you deserve to have a grin that accurately reflects the successful person you are. And, with porcelain veneers in Arlington Heights from the team at Costello Dental Excellence, you can achieve the perfect teeth that are worthy of you.
What Are Porcelain Veneers?
As your expert cosmetic dentist in Arlington Heights, our team explains that porcelain veneers are thin, yet durable shells of porcelain that are permanently affixed to the front side of your teeth with a tooth-colored bonding agent. This procedure is a great way to take care of many common aesthetic issues with just one treatment – from chips, to gaps, to staining, to alignment issues, porcelain veneers can take care of all your smile imperfections at once.
Are Porcelain Veneers Long-Lasting?
Absolutely! With proper care, this smile upgrade can last decades. Aside from being remarkably durable, one of the great advantages to porcelain veneers is that they're stain resistant. And, since they're placed on individual teeth, if you happen to need a replacement, you have the ability to only address the veneers that need correction.
What Is The Process For Porcelain Veneers?
To receive this smile makeover, you'll go through the following process:
We'll perform a consultation and exam to discuss the results you're after.
We'll numb the area to make sure you're completely comfortable throughout the process.
At that point, we will prepare your natural teeth for the veneers by removing some of the natural enamel.
We'll use a permanent bonding agent to secure the veneers to the front side of your teeth.
That's it – at that point, you'll be all done and ready to start showing off your brand new smile! And, since you get to choose the shade of porcelain for the veneer, as well as the bonding agent, your teeth will be as brilliant as you'd like.
Now that you know how porcelain veneers can help your smile shine brightly at your graduation, schedule your appointment with Costello Dental Excellence to achieve your smile goals before the big day!