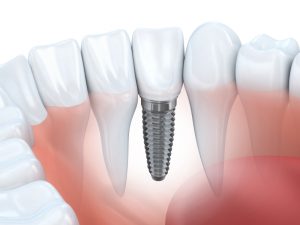 Online review services like Yelp! can help you choose your next brunch spot or auto shop, but when you're looking for something that requires a little more skill, a quick Google search doesn't cut it. If you need an Arlington Heights implant dentist, for example, you'll want to take the time to ensure you're making the very best decision. So how do you choose the right person to complete your smile? We've got some tips.
First, Look for Comprehensive Care
Many general dentists offer patients the final step of the dental implant procedure, or the restoration. But dental implants are completed in two phases: the initial implantation and then the final restoration, when the prosthetic is affixed on top. You can simplify the process by choosing a team that will take care of the entire process in one office, with no need for an outside referral.
And a Highly Educated, Trained Team
You can usually find information about your dentist's formal and continuing education on their About Me/Us page. Considering their level of formal education and training can help you decide between two potential dentists. A commitment to continuing education and professional development, as evidenced by membership in professional organizations like the American Academy of Periodontology, can also be a good indicator of the doctor or periodontist's level of care.
Then Check the Online Reviews
After you've narrowed down your list for a potential dental implant dentist, then it's time to see what people are saying online. Google, Facebook, and Yelp! are all good resources. If the dentist has a number of positive reviews — especially ones related to dental implant care — that's a good sign. And even if you do come across a less-than-glowing review, that doesn't necessarily mean the dentist isn't a good fit for you. Take note of the specifics of the complaint, and how the office responds to the review.
We're Waiting for You at Costello Dental!
We are confident that your search for a top dentist performing dental implants in Arlington Heights will lead you straight to Costello Dental! Our expert team provides high quality implant care to help patients regain their complete smiles.
When you schedule a consultation, our team will first evaluate your candidacy for the dental implant procedure. Patients should be in good oral and overall health to successfully recover from the initial implantation. After we determine that you're a good candidate, we can place and restore your dental implants from the comfort of our office, so there's no need for an outside referral. We provide complete dental implant care at Costello Dental!
Schedule an Appointment Today
You can enjoy all the benefits of a complete smile once again — you just need to choose the right team to handle your dental implant care. Contact us to learn about your candidacy for implant dentistry today.