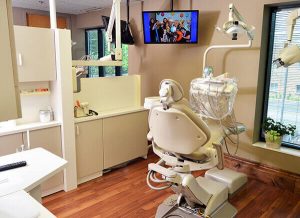 For more than 50 years now, Costello Dental Excellence has been a part of the Arlington Heights community. While we have a brand new office equipped with comfortable and modern amenities, our core values remain the same. Our office is dedicated to delivering gentle, attentive dental care that focuses on our mission to deliver dentistry service that is caring, positive, professional, and team-oriented. We truly care about each patient we treat and take the time to get to know all of them and their oral health care needs. We all experience challenges on a daily basis, but at Costello Dental Excellence, we're dedicated to meeting every challenge with a positive attitude and commitment to improving the dental care experience for every patient. Every member of our team completes continuing education courses to stay up to date on all the latest in the dental field, ensuring exceptional care for every patient. Finally, every member of our team works together to make the dental care process seamless from start to finish. Our team members never take a "that's not my job" approach to care. Instead, we help each other and help our patients any way we can.

Our History
In our fifty year history in Arlington Heights, we have supported local organizations and participated in community events and charities. We want to make our community a great place to live and work. We regularly volunteer with health-related community programs, but also give back in other ways. We coach youth sports, host patient appreciation days, and offer support for local charitable organizations.
Friendly Dentists & Team Members
Our team of skilled dentists and dental professionals go the extra mile to deliver comfortable, family-friendly dental care. If you're new to our office, we can't wait to get to know you and your loved ones. Before you visit, please don't hesitate to reach out to our dedicated dentists and dentistry team to learn more about our experience and qualifications, the state-of-the-art dental office, or our wide array of dentistry services.
Join Us for Patient Appreciation Day
As we open a brand new office, our team wants to celebrate those families who have been with us for generations. We invite you to come out and explore the new office, during our patient appreciation day on June 19th. We'll have fun together, laugh, and find even more reasons to smile in our new Arlington Heights dental practice.
Meet the Costello Dental Excellence Team
At Costello Dental Excellence, our team has gone above and beyond to offer exceptional dental care for Arlington Heights residents for more than five decades. Founded on family values with a dedication to offering high quality dentistry services for every member of the families we serve. At Costello Dental Excellence, we'll be happy to offer preventive, restorative, and cosmetic dentistry services to meet any patient's needs. Contact our Arlington Heights dentistry practice today to schedule your appointment with our dentists and dental care team. We look forward to seeing you soon.