Veneers – Arlington Heights, IL
A Simple Solution for a Brand-New Smile
If you are unsatisfied with the appearance of your front teeth, there is a wonderful solution in sight with dental veneers in Arlington Heights. These are thin coverings made from dental porcelain – a sturdy, natural-looking material – that can mask all sorts of imperfections. Veneers are customizable, long-lasting, and, best of all, beautiful. To learn more about this simple solution for a brand-new smile, give us a call so we can get you started with an initial consultation!
What are Dental Veneers?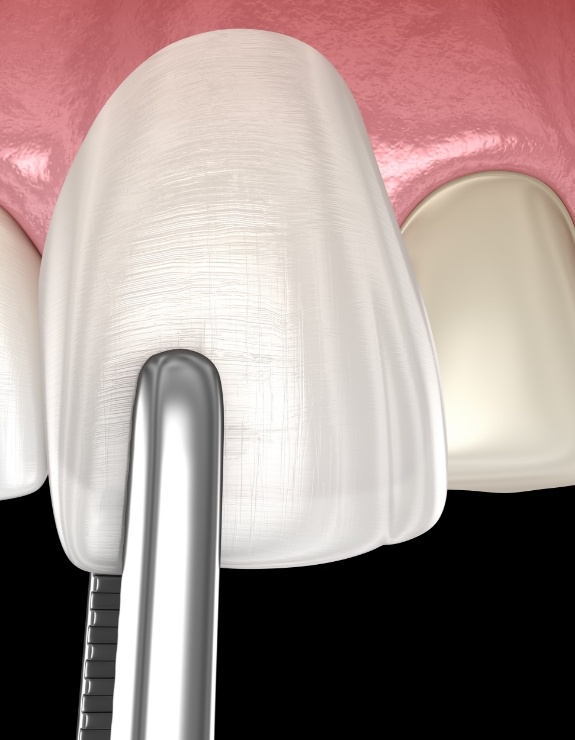 Veneers are shells that are affixed to the front surface of the teeth that show when you smile. They are made from dental porcelain, which looks just like your natural tooth enamel. Once veneers have been adhered to the front side of the teeth, they will cover up virtually any cosmetic blemish or imperfection. Your dentist will build a customized treatment plan to ensure your veneers match the size, shade, and shape that suits you best. With proper care and maintenance, including excellent oral hygiene and routine visits to the dentist, veneers can last for over a decade!
The Process of Getting Veneers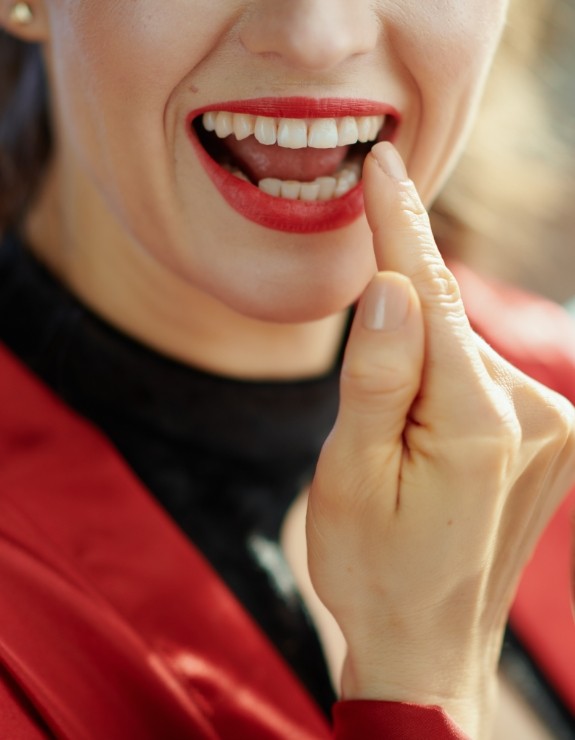 Dental veneers are placed over the course of two visits to your cosmetic dentist. The first appointment is reserved for the preparation of the tooth enamel and taking impressions and x-rays of the teeth. Temporary veneers will cover the prepared teeth in the time between appointments while the permanent restorations are being created. Once they are finished, about one to two weeks later, you will return to our dental office for their final placement. Your dentist will remove the temporaries, apply a special etching solution to the tooth to encourage bonding, and then permanently attach the veneers to the prepared teeth.
The Benefits of Veneers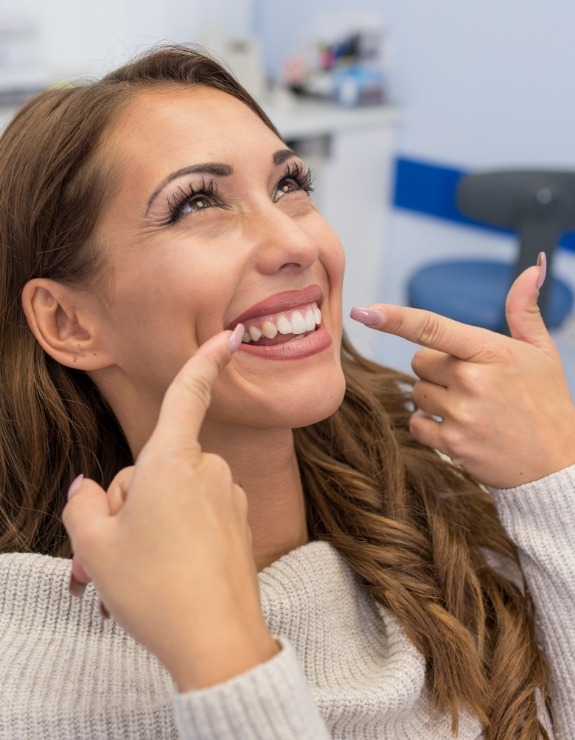 Veneers have numerous benefits for patients who are looking to achieve a perfected smile. Here are just some of the ones you can expect to experience:
Stain-resistant: Veneers are able to resist stains much better than your natural tooth enamel. They can be used as a long-term whitening solution.
Long-lasting: With proper maintenance, veneers can last 15 years or longer.
Natural-looking: Veneers are carefully placed so they appear perfectly natural. No one will be able to tell that they aren't part of your natural teeth.
Personalized: Dental veneers are crafted to be the exact size, shape, and color needed to blend in seamlessly with the rest of your smile.
Am I a Candidate for Veneers?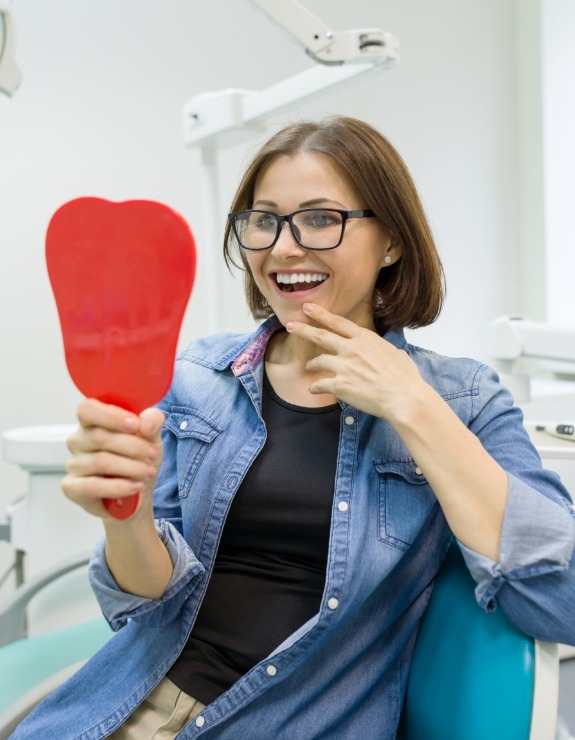 Many adult patients are eligible for veneers. They are reserved for cosmetically imperfect but otherwise healthy teeth, so we will schedule a checkup and cleaning before beginning the process. If you have a broken, decayed, or otherwise structurally flawed tooth, the best solution may be a dental crown. We will discuss all of your restorative options to ensure you receive the one that is truly best for you. Whatever your smile needs, we can help you love your teeth once again!
Understanding the Cost of Veneers
If you want to learn more about the cost of veneers in Arlington Heights, then we encourage you to schedule a consultation with one of our talented cosmetic dentists. That way, we can provide you with an estimate and review the financial solutions available so you have a better understanding of what your investment will be. Always here to help, our team has also provided more information about the price right here!
Cost vs. Cosmetic Dentistry: What's Right For Me?
It's common for patients to take one look at the cost of veneers and automatically assume that it isn't the best choice for their wallet. However, it's important to consider more than just the upfront cost. While there are several other smile-enhancing treatments to choose from, they don't all compare to the results veneers can give you. With this in mind, here's a bit more information on how braces, teeth whitening, and direct bonding compare to veneers:
Braces – Veneers and braces are both able to correct mild misalignment. Sadly, orthodontic treatments can't improve the shade and shape of your teeth. So, if you choose this route, you'll need to factor in the cost of additional treatments.
Teeth Whitening – Professional teeth whitening is ideal for patients who are struggling with dental discoloration. If, however, you want to improve the position or shape of your teeth, you'll need to consider a different cosmetic dental service as well.
Direct Bonding – Direct bonding does improve multiple imperfections at once, but the results don't last anywhere near as long as veneers. So, while it may be more cost-effective upfront, veneers may be the best choice for your wallet in the long run.
How to Make Veneers Affordable
Although dental insurance providers typically don't cover the cost of veneers, there are other ways you can make this smile-transforming treatment more affordable. First, we have an in-house membership plan that can help you save on essential preventive care. As a result, you'll have more money to allocate to cosmetic services! Second, we welcome flexible financing, which prevents you from having to pay for your entire treatment at once. If you would like to learn more about these options (or you have a question about the cost of veneers in general), don't hesitate to let our team know.
Veneers FAQs
Before you commit to getting veneers in Arlington Heights, you probably have some questions about the treatment. That makes sense because it's a significant decision not to be made lightly. Fortunately, we're here to erase any doubts from your mind so you can confidently move forward with the process. We've compiled a list of responses to common questions patients ask us about veneers. If you don't see your question on the list below, don't hesitate to reach out to us for an answer!
How Many Veneers Will I Need?
The "right" number of veneers varies depending on each person's unique smile needs. The goal of this treatment is for all your visible teeth to match. Many people get 6-8 veneers to create a beautiful, symmetrical smile. Others might need as many as 10-12. Also, veneers can often benefit people who need to just cover a single cracked or broken tooth.
What Can I Eat with Veneers?
At the end of your initial visit with your cosmetic dentist in Arlington Heights, you'll receive temporary veneers to protect your prepared teeth while you wait for your permanent ones to be made. During this period, you'll need to avoid hard foods like ice, raw fruits and vegetables, or candy because they can damage your temporary restorations. The good news is once your permanent veneers are in place, you won't need to be quite as cautious anymore. However, it's still a good idea to be careful when eating sticky, dark-colored, crunchy, hot, or cold foods and drinks. Plus, you'll want to drink alcohol sparingly because it can weaken the bonding material holding your restorations in place.
How Are Veneers Different Than Crowns?
While veneers only attach to the front of teeth, crowns cover an entire tooth. Veneers are primarily used for cosmetic purposes or minor shape corrections when the tooth is mostly intact. In contrast, crowns protect worn or cracked teeth or restore those that have undergone a root canal. Also, veneers are only about one millimeter in thickness while crowns are usually twice as thick. Finally, veneers typically don't show a gum margin after several years the way crowns often do.
Are Veneers Permanent?
Since veneers eventually require replacement, they're not considered permanent. However, the process of getting them is irreversible. In preparation, our cosmetic dentist will remove a thin layer of enamel to ensure successful treatment. But unlike hair and nails, removed enamel will never grow back. That's why when teeth are prepared this way, they will always need to be covered with veneers or crowns.