Invisalign – Arlington Heights, IL
Easily & Invisibly Straighten Your Smile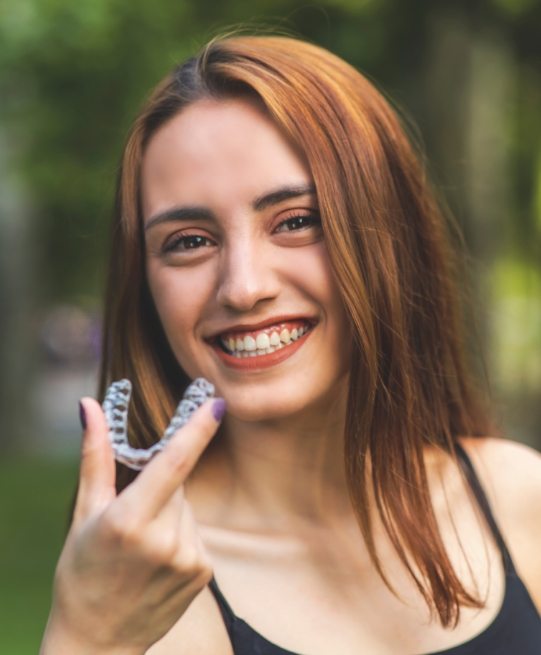 Once you pass your teenage years, the thought of getting braces isn't all that appealing. But many adults are dealing with crooked or misaligned teeth -- and that raises risk for tooth decay, gum disease, even jaw pain. Plus, it's difficult to flash your most confident smile when you aren't so crazy about the way it looks. If you could benefit from braces but don't want to wear metal brackets and wires for a year or more, it's time to learn more about how Invisalign in Arlington Heights from a cosmetic dentist at Costello & DeHart Dental Excellence can help enjoy all the benefits of straight, beautiful teeth.
How Invisalign Works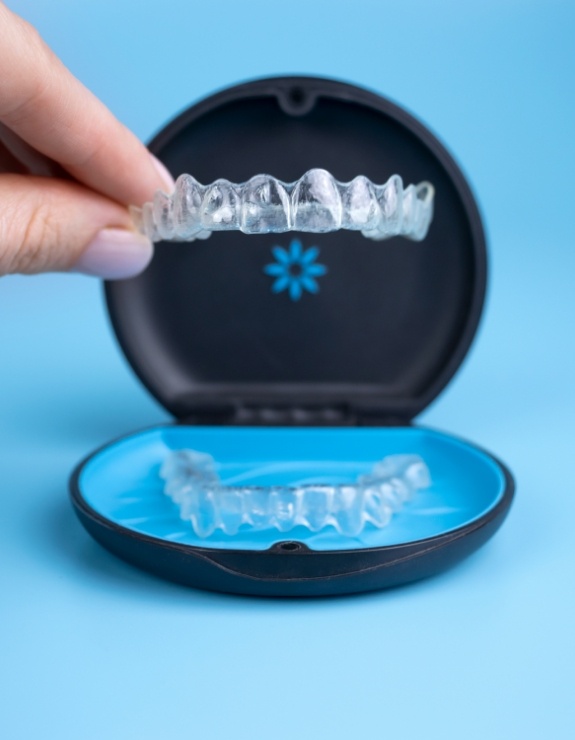 Invisalign is an FDA-approved orthodontic treatment that uses clear, customized plastic aligners to gradually reposition the teeth. Each aligner focuses on shifting one part of the bite according to the overall treatment plan. It's a small adjustment each time, but over a period of 12 to 18 months, on average, the bite is successfully realigned.
To set you up with Invisalign, your dentist will evaluate your bite and put together a personalized treatment plan. Our team will take photos, x-rays, and impressions of your oral structures, information that is sent to the Invisalign lab for the creation of your trays. You receive the entire Invisalign treatment -- all the personalized aligners -- at once. Begin treatment immediately, and simply advance to the next aligner in the series every two weeks, gradually working your way to straighter teeth and a more beautiful smile.
Indications for Invisalign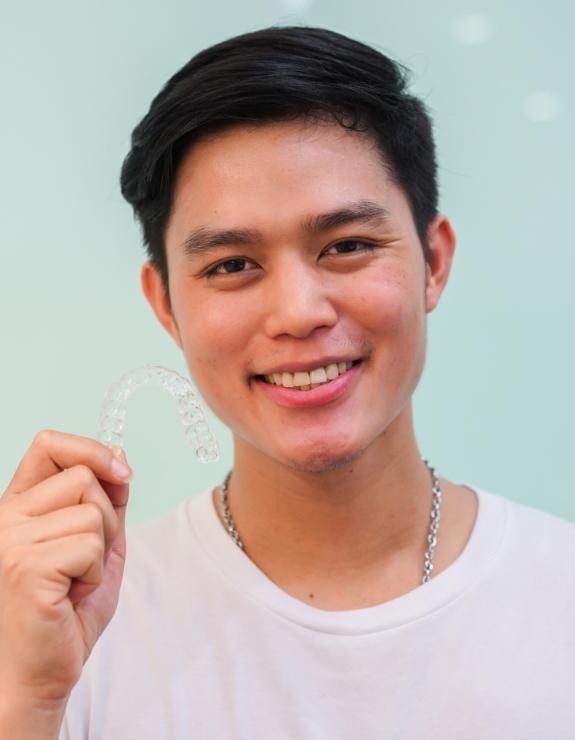 Invisalign can be used to correct most common orthodontic issues, like:
Closing gaps between teeth
Repositioning crooked teeth
Improving overbite, underbite, and crossbite
Invisalign is an appropriate orthodontic treatment for most tooth alignment and bite problems. However, it is generally best for people who:
Have the self-discipline to wear their aligners for the recommended amount of time each day.
Are adults or teenagers whose mouths are mostly (or completely) developed.
Value the aesthetic benefits that come with using clear braces to realign their smile.
Your dentist will talk with you in more detail about whether Invisalign is a fit for your mouth and your lifestyle. The majority of patients are good candidates for this treatment!
The Benefits of Invisalign
Compared to traditional braces, Invisalign is a breeze. Clear braces offer patients increased convenience, comfort, and privacy throughout their orthodontic treatment.
Some of the key differences between Invisalign braces and the metal variety include:
Visibility : While some people may know you are undergoing orthodontic treatment with Invisalign, casual acquaintances and colleagues are unlikely to ever notice your clear braces.
Diet : With traditional braces, patients have to steer clear of crunchy, hard, and sticky foods that can dislodge the brackets and wires. But with Invisalign, you simply remove your trays before all meals and snacks to continue eating what you like.
Metal - free : Patients with metal sensitivities may be unable to undergo the treatment for traditional braces. Invisalign is completely free of metal.
Dental hygiene : Metal braces can make brushing and flossing difficult -- but removable trays allow you to thoroughly clean without any special maneuvering.
Comfort : Smooth plastic won't rub blisters in your cheeks, tongue, or gums.
Convenience : Fewer appointments with the dentist are required overall, and there's no need for emergency appointments to fix a popped off bracket or wire.
A Day In the Life with Invisalign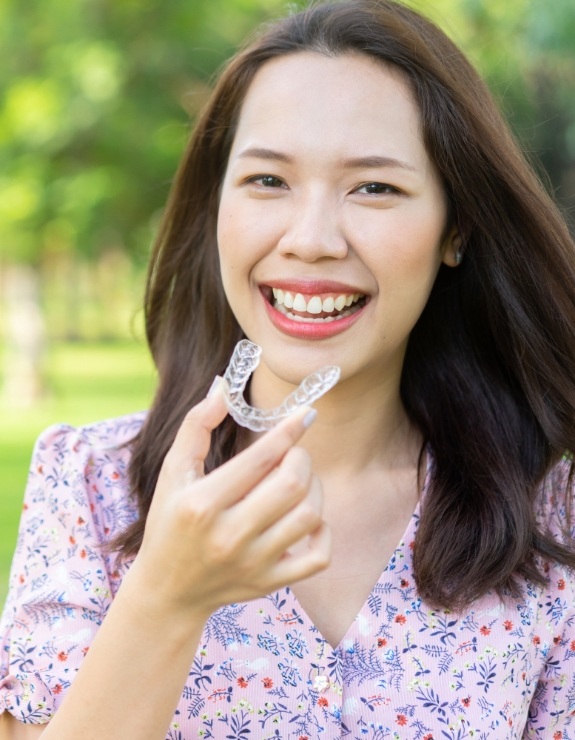 Living with Invisalign is not so much different than what you are already used to. You and your dentist will discuss the particulars of your case in detail before you begin with Invisalign. To advance through the Invisalign treatment without any delays, make sure you are wearing the trays for the required 20 to 22 hours every day. Remove them to eat, drink anything other than water, and before brushing and flossing. You can even feel free to remove the trays for special events or important meetings.
Before you reinsert your trays, make sure you brush your teeth and rinse the trays first. It is important for you to be especially vigilant about thorough brushing while wearing Invisalign, as any left behind food particles or bacteria can become trapped between the enamel and the plastic, accelerating the rate of decay.
Use Invisalign as directed and stay on top of your regular visits at Costello & DeHart Dental Excellence, where we will check in to make sure you're advancing through the treatment as expected. Before you know it, you'll be finished with Invisalign -- and smiling more beautifully than ever!
How Much Does Invisalign Cost?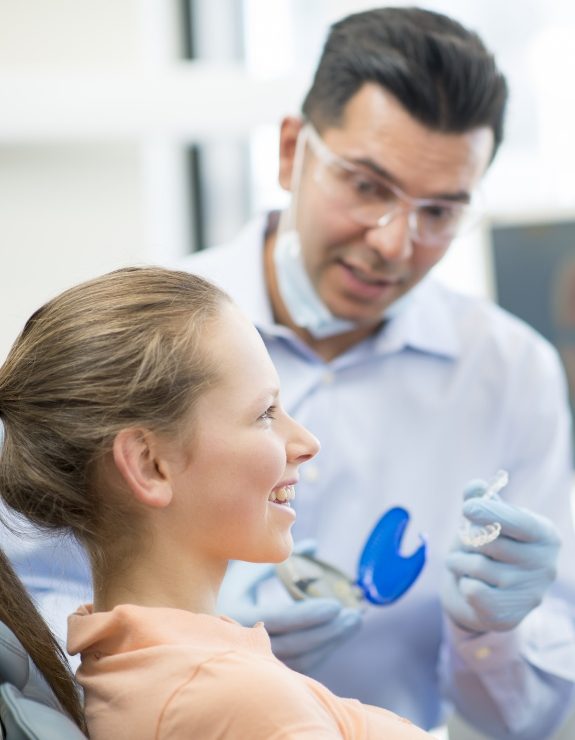 When discussing your options for achieving a straighter smile, the first question that comes to mind is probably "How much will it cost?" At Costello & DeHart Dental Excellence, we understand that the cost of a dental procedure is a great concern for most patients. With so many things vying for your money these days, it can be hard trying to decide what is the better investment. One thing to remember is that poor oral health can end up costing you more in the future. While it might not seem as big of a deal right now, it most certainly will be when you have no other option but to pay for dental work. When talking with one of our cosmetic dentists about the cost of Invisalign in Arlington Heights, they can not only discuss your treatment plan but also the financing options and dental insurance benefits. Take the first step in improving and investing in your smile by contacting us today for a consultation.
What Factors Influence the Cost of Invisalign?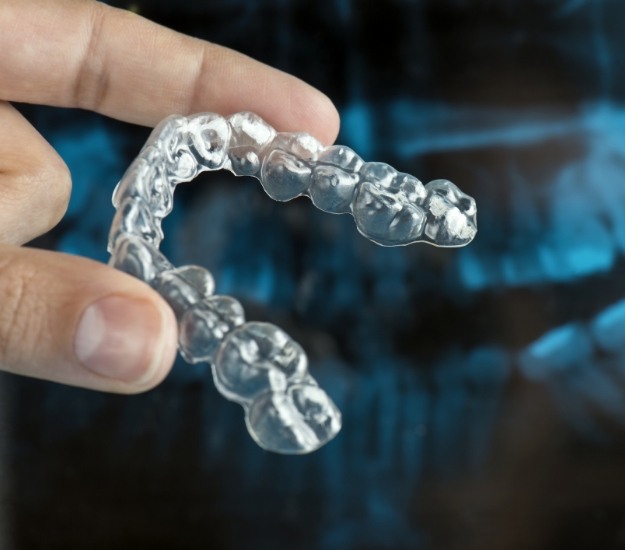 Each patient is different, which means the cost for Invisalign might not be the same for everyone. Different factors play a role in the overall cost. During your consultation with a dentist in Arlington Heights, you will not only learn about your individual plan, but you'll also learn which factors make up the total cost of your Invisalign treatment. Some of these factors may include:
How much your teeth need to shift, which can determine how many sets of aligners you'll need
If you need attachments to make treatment more effective
If you need a top and bottom aligner
Is Invisalign Worth the Investment?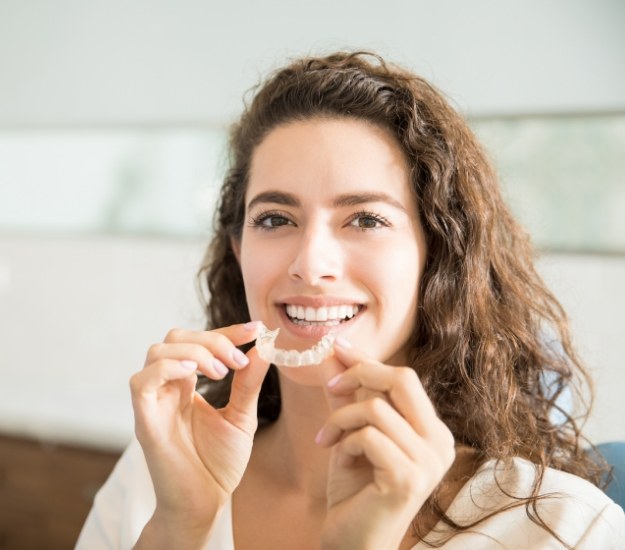 As the most popular alternative to traditional braces, Invisalign enables you to achieve the results you want in a discreet fashion. Not only are you finished with treatment more quickly than with metal braces, but it is the most flexible option for working professionals who do not wish to divulge their treatment. Here are a few other reasons why Invisalign is worth the investment:
Increased self-esteem: Researchers have discovered a connection between low self-esteem and overall health. When stress and depression appear, it can cause inflammation, which, in turn, causes a weakened immune system. However, when you have increased confidence in your smile and overall self, you begin to produce calming hormones, positively impacting your overall health.
Healthier mouth: Crooked teeth or a misaligned bite can lead to serious consequences for your oral health. From difficulty cleaning between your teeth to premature wear and tear or problems with TMJ, Invisalign can shift your teeth in the right direction, helping to prevent oral health problems from developing or worsening.
Eat what you like: Traditional braces make it difficult to enjoy certain foods and often keep you from divulging in a delicious apple for fear of breaking a wire. But with Invisalign, you can remove your trays and eat whatever you prefer.
Convenience: If you don't want the hassle of extra time spent cleaning between wires and brackets, the cleaning process for Invisalign aligners is quick and easy. All you do is remove your aligners, brush them with clear soap and lukewarm water, and you're done. Now, you'll also need to brush and floss your teeth, but when it comes to the actual cleaning of your aligners, you can beat the convenience.
What Financial Options Are Available?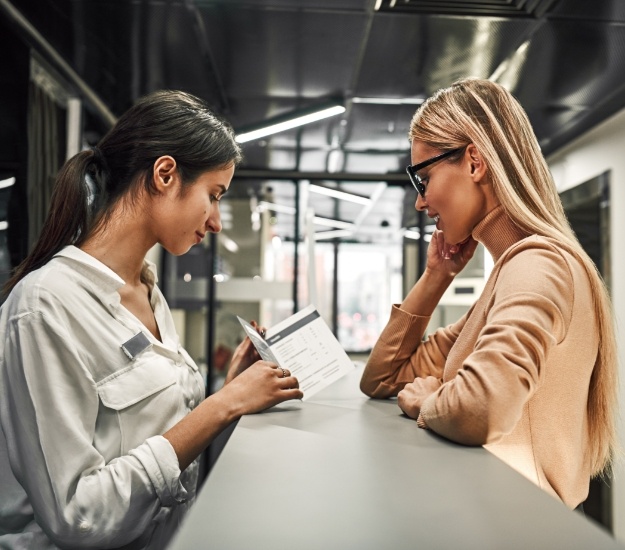 Depending on your individual plan, most insurance companies will pay for Invisalign treatment. However, if you don't have insurance, Costello & DeHart Dental Excellence offers an in-office insurance plan that starts as low as $325 per year. This plan will cover most preventive services and provides discounts for cosmetic and restorative dentistry care.
If you're concerned you won't be able to afford Invisalign, talk to one of our Costello & DeHart Dental Excellence team members . They will help you file your insurance claims and discuss additional ways to make your dental goals affordable.
Visit a cosmetic Dentist in Arlington Heights Today!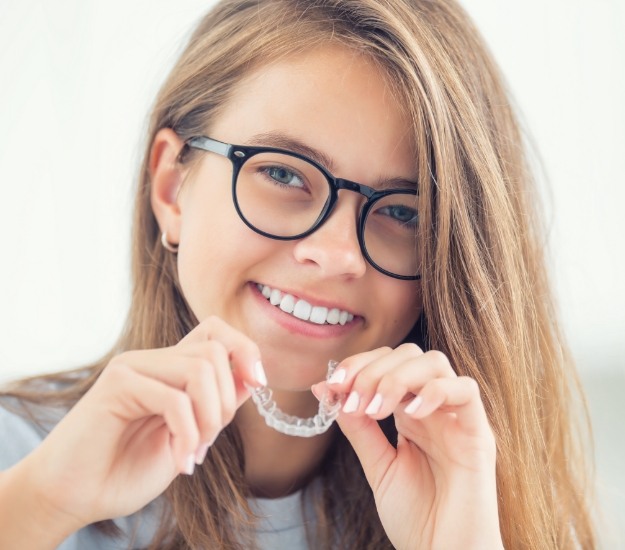 It's not too late to enjoy the benefits of a straight, beautiful smile. If you are interested in learning whether or not your teeth can be straightened with Invisalign, clear braces for adults and older teens, we urge you to schedule an appointment at Costello & DeHart Dental Excellence. We can't wait to help you smile your very best!
Invisalign Frequently Asked Questions
If you want to easily and conveniently straighten your smile, there's simply no better choice than Invisalign. However, it's only natural to have some questions that need answers before you feel comfortable committing to a treatment plan. For your convenience, we've gathered some of the most frequently asked questions we get about Invisalign below so you can learn more! If you don't see the information you're looking for, don't hesitate to give us a call.
What Should I Do If I Accidentally Damage An Aligner?
Accidents happen. No matter how careful you are about looking after your Invisalign trays, you may find that one of them suffers damage. Don't wear the damaged tray; it could irritate your gums and cause you pain. Simply give our dental office a call, and we'll let you know what your next steps should be.
In some cases, we may recommend that you start wearing your next aligner a bit earlier than planned. In other cases, you might have to go back to wearing a previous aligner until we can get a replacement for the one that got damaged.
What If My Mouth Is Sore During Invisalign Treatment?
You may experience some mild soreness when you switch to a new aligner. One way to mitigate the discomfort is by switching to a new aligner at night, just before you go to bed; you'll be able to sleep through at least part of the transition period.
If Invisalign ever causes you serious pain, it's possible that an aligner wasn't cut correctly. Call our dental office, and we'll see what we can do about the situation so you can get back to enjoying all the benefits of this remarkable treatment.
Will I Have to Wear a Retainer or Other Gear?
Some patients need to wear attachments with their aligners in order for their treatment to live up to its potential. These attachments are oftentimes more noticeable than the aligners themselves, but they won't scream out for attention. You'll still be able to enjoy the discretion that makes Invisalign the preferred choice among professionals who don't want to be a "metal mouth."
Once you finish your treatment with Invisalign, we'll provide you with a retainer, which you'll need to wear regularly. This is important because the retainer will your teeth from drifting back out of place and maintain your beautiful new smile.
How Much Does Invisalign Cost?
The exact cost of your Invisalign treatment will depend on a few factors, including the severity of your orthodontic issues. Mild problems may require fewer aligners and therefore may cost less to correct. The total cost may also be affected by whether you need any attachments to make your treatment more effective.
In general, the cost of Invisalign is comparable to that of traditional braces, and insurance is often willing to help pay for either treatment. We'll be happy to help you file insurance claims and discuss other ways to make your journey to a straighter smile as affordable as possible.